Hike to Paso Del Viento & Camping at Laguna Toro
Trip Information:
---
Duration: 2 – 3 Days including one or two night camping at Laguna Toro Campground
Reservations:  No need to reserve camping, but you should check in at the Visitors Office right by the trailhead.
Estimated distance to Laguna Toro: 16km (10 miles) or 5-7 hrs one way
Estimated distance from Laguna Toro to Wind Pass: 8km (5 miles) 3-5 hrs one way (Difficult)
Alltrails Map: Trek Map
Directions: Trailhead Parking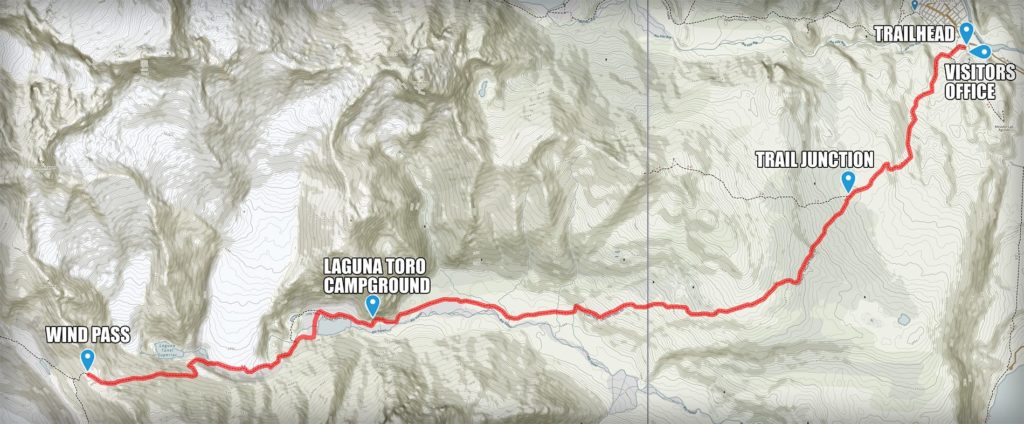 ---
❖ DAY 1: Hike to Laguna Toro Campground
---
Weather has been rough and a snow storm was dumping. After waiting it out in a hostel for a few days, we've finally spotted a small window of good weather through mountain forecast and stepped out into the storm early in the afternoon knowing that it will clear up toward the end of the day, and it did.
This hike's trailhead is located on right side of the Visitors Center (marked on the map) and shares the same path with Del Pliegue Tumbado trail for the first 3 miles until you reach the trail junction and branch of to to the left toward Lagona Toro.
By afternoon, our feet and clothes were soaked from walking through constant wet snow and turning back has crossed our minds a few times. However, we pushed on with end goal of getting to camp, having a hot meal and curling up in our warm sleeping bags and hike to Wind Pass the next day.
Shortly the rain stopped and the first layer of storm clouds started to dissolve. We immediately felt the warmth of sun rays trying to fight through the remaining thin layer of clouds. It's always a good idea to to dry your clothes and equipment with whatever remaining sun you have left for the day.
We reached the campground before sunset. We put up our ultralight Zpacks Duplex tent and walked over to Laguna Toro to enjoy the sunset. We were completely alone and it was such a calm and serene end to a day that started off as a gloomy and cold hike into uncertainty.
---
❖ DAY 2:Hike to Wind Pass and Back to El Chalten
The next morning we woke up to clear skies and set off on our hike to Wind Pass. We have left all the heavy gear at the Laguna Toro campground so we could be as light as possible on out feet as we planned to hike to the pass and return back to El Chalten that same day since we had the Viedma Glacier Trek booked for next day. Although, we have definitely underestimated how difficult and how much time it would take to do all of it in one day. Plan to spend at least 2 nights at Laguna Toro Campground if you are trying to hike to up to Wind Pass.
IMPORTANT: After Laguna Tunel o Tore lake, the trail splits up in two, but would later connect again. If you are experienced climber and have a harness, caribiners and a sling with you, you can stay to the right and would eventually have to use the climbing equipment to cross the river over cables. But if you have no climbing experience or proper gear with you (like us at the time) stay to the left after passing the lake and you will have to cross glacier run offs which were knee deep for us at that time. Later the trail will merge again.
The Wind Pass really does seem closer than it is when you're looking at it from Laguna Toro. It's a difficult hike going uphill through rocky terrain. There were times where we got off the trail and had to scramble through loose rocks just to find it again. The trail is only visible for about  50-60%% of the time, so you would have to rely on Rock Cairns, GPS Pre-loaded track or a paper maps.
At one point there was a section where we ended up walking on the end tip of the glacier. There was a trail left by a previous party, so we felt safe walking on it. Please do so at your own risk. You can also choose to try to scramble on the left side of the glacier.
Once we got to the top of the Wind Pass the views of the Southern Patagonian Icefield were breathtaking. You could see as far as the eye could see. Unfortunately due to us underestimating our time we could only spend about 30 minutes at the top before heading back. We got back to camp around 6pm quickly ate dinner to fuel up and headed back into town. As we were hiking back, it started to rain again. At 10:14pm we arrived at El Chalten. It was hell of a day with in total of 32km (20mi) hiked.