Hike to Laguna De Los Tres and Camp at Poincenot Campground
Trip Information:
---
Directions: Drive from El Chalten to El Pilar: 30min or 14.5km (9mi) one way
Distance: from El Pillar to Poincenot Camp: 8 km (5mi) one way
Distance: from Poincenot Camp to Lguna De Los Tres: 1.8 km (1.1mi) one way
Alltrails Map: Trek map
---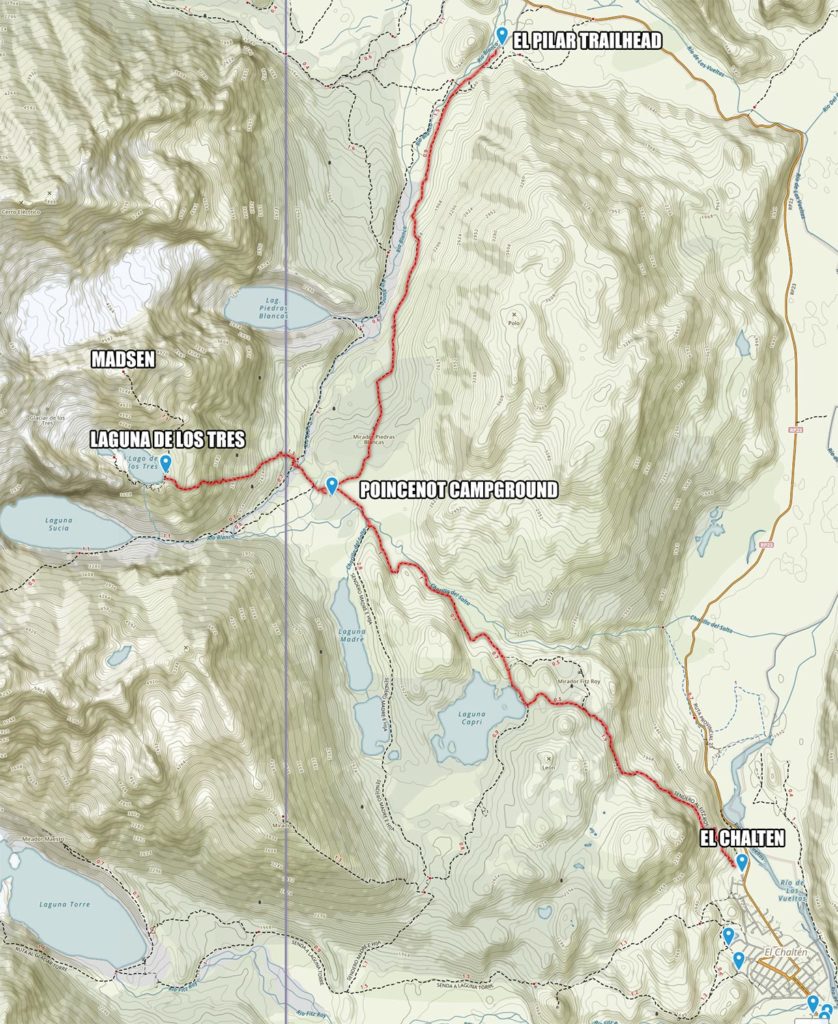 ---
We were initially planning to camp for 2 nights, but our stove malfunctioned on the first night at Poincenot campground, and we had to go back into town the next morning and try to get it fixed.
To get to El Pilar trailhead, we've reserved a shuttle transportation with Las Lengas for  $9/person. You can try hitchhiking, but the road is not paved and we haven't seen much traffic going that way.
The hike to Poincenot campground is relatively easy. You will pass by some pretty views of the Rio Electrico Valley and Piedras Blancas Glacier.  Estimated (one way) completion time to campground 8km (5mi) 3 – 3 1/2 hours
---
As we headed out to check out the Laguna de los Tres (one hour, one way, steep uphill hike). We've noticed that the weather started to change very rapidly and by the time we reached Laguna De Los Tres, it was nearly a whiteout and the wind was literally trying to blow us of our feet. I'd say that the wind speeds were reaching anywhere near 80Mph (130Kph) with gusts over 90-100Mph(145-160Kph). We weren't able to see much, but the whole adrenaline rush experience was well worth it.
Upon returning back to the campground, we approached our tent and saw that it was filled with dirt inside! We realized that it was from all the wind carrying the small volcanic dust particles. Since we had a 3 season tent that does not fully close off from the ground, dirt being blown inside was inevitable.
---
As I mentioned earlier, because of our stove malfunction, we had to get back to town in the morning. Let me just say that this trip is doable in one day, and most of the people who were dropped off at the El Pilar trailhead with us, had only day packs with them, meaning they were planning to come back into town through the Capri Campground trail that same day.
Our initial itinerary for the second day consisted of visiting the top of Madsen (Which is above Lago De Los Tres), visiting the lakes of Laguna Sicia, Madre, Hija, climbing to the top of Mirador and Camp at Laguna Torre.
---