7-Day Itinerary Banff National Park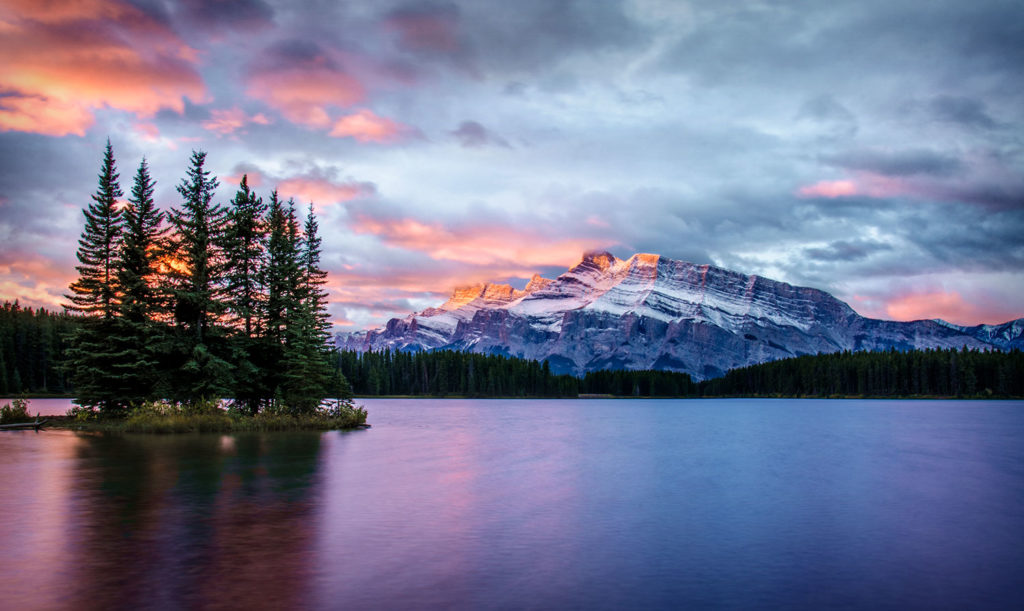 After visiting the Canadian Rockies in fall of 2012 for the first time, I felt so inspired that I just couldn't wait to go back again!
It was already mid-September and snow in the mountains has arrived early this year. I started having doubts about this whole trip with friends & family discouraging me with thoughts of freezing to death and hungry grizzly bears. I guess it did mess with my head and I kept putting away purchasing these damn tickets…
It was a day before my birthday, Dasha set me down and gave me a handmade envelope, which had a path from Newark to Calgary. I immediately knew what it was. I was going to Canada… By far, it was one of the most thoughtful and important gifts I ever got in my life.
Detailed Itinerary:
---
☑ Day 1 – Arrival to Calgary
☑ Day 7 – Departure from Calgary
---
❖ DAY 1: Arrival to Calgary Airport, Car Rental Pick Up and Hotel Check-in
---
I've arrived to Calgary early in the afternoon. After picking up my rental car I went straight to the nearest super market to stock up on groceries for the week. Soon after, I ended up driving for two hours toward the town of Banff. This night, I planned to stay at Banff International Hostel.
---
❖ DAY 2: Overnight Hike to Bow Hut in Banff National Park
---
The next morning, I left town of Banff and drove 140km north on Icefields Parkway towards Bow Lake. For today's itinerary I have planned to do an overnight hike to the Bow Hut, nicely tucked away in the mountains  at 2,350m (7,700ft). When I arrived at the lake, I started packing my gear and supplies, hoping to hitch a companion, because I never hiked alone before especially in the bear country. With occasional buses stuffed with tourists, rushed and eager to take photos of the lake, I soon realized that I will have to hike alone. A detailed blog for this overnight hike can be found here: Overnight Hike to Bow Hut in Banff National Park.
---
❖ DAY 3: Return to Bow Lake and visit Peyto Lake, Mistaya Canyon, Icefields Parkway Viewpoint, Athabasca Glacier.
---
I left the Bow Hut around 9AM and got back to the trailhead parking lot by 11AM. I got in the car and started heading north to visit Peyto Lake. After spending about 20-30 minutes here, I've moved on toward Mistaya Canyon. If you're interested in additional hiking, there is a 10mi roundtrip Mount Sarbach Route trail that takes you up to a beautiful ridge with lots of panoramic opportunities. After Mistaya Canyon, I continued driving north towards a beautiful Icefields Parkway Scenic Overlook. I also visited Athabasca Glacier before weather turned for the worst. Later that day I drove back toward Banff, but decided to spend the night at a hotel in Canmore to catch some good night sleep.
---
❖ DAY 4: Day Hike to Burstall Pass in Kananaskis Region
---
After finally getting a good night sleep and a full size breakfast, I left Canmore and drove south on Smith Dorrien road for about 1.5hr until I reached Burstall Pass Trailhead. As usual, the trailhead was completely empty, so I was not expecting to bump into anyone else. A full detailed blog for hiking the Burstall Pass can be found here: Day Hike to Burstall Pass in Kananaskis Region.
Once back at the trailhead, before returning back to town, I decided to take it slow and drive around Kananaskis, photographing and exploring this region. I found that the hotel accommodations in Canmore were reasonably priced, so I decided to spend another night here instead of Banff International Hostel, where it was very difficult to get some sound sleep.
---
❖ DAY 5: Lake Annette & Horseshoe Lakes Day Hike in Banff National Park
---
On this day, I planned to do a day hike with Marko & Emily, a couple from Calgary, who I've met online through photography forums. Marko is an excellent trekker & photographer and was very kind to offer me to join them on this hike. All of the detailed information for our hike can be found here: Lake Annette & Horseshoe Lakes Day Hike in Banff National Park. It's a spectacular hike, conveniently located between Lake Louise and Lake Moraine, but doesn't get nearly as much traffic as the surrounding popular iconic locations.
---
❖ DAY 6: Hiking Tent Ridge Track in Kananaskis Region
---
Tent Ridge Track was an unplanned hike that I noticed while driving by on Smith Dorrien Road. I spotted this ridge from the far and thought to my self that it would be so awesome to hike it. Ten minutes later I found out that there is even a road that takes you to the side road parking and that there is actually a trail! A detailed information on hiking this track can be found here: Hiking Tent Ridge Track In Kananaskis Region. After completing this hike, if you feel like you still have energy, I encourage you to check out another short but very cool hike called: Ha Ling Trail. It is just a little over 3mi in round-trip distance with great views. Unfortunately, I have only learned about this hike after I returned back to US.
---
❖ DAY 7: Exploring Banff National Park and later catching a flight back home.
---
Today I mostly drove around Bow Valley Parkway enjoying the scenery and taking photographs of beautiful places. Toward the second half of the day I started slowly moving toward Calgary to catch my evening flight back to Philly.
---