Hiking Tent Ridge Track In Kananaskis Region
A strenuous back-country loop through the top of the ridge with incredible panoramic views of the entire Spray Valley Provincial Park in Kananaskis Region.
Trip Information:
---
Distance: 10.5 km (6.5 mi) roundtrip
Elevation Gain: 640 meters (2,100 ft)
Estimated Duration: 5-6hrs roundtrip
Driving Directions: 1hr 10min drive on the unpaved road from Canmore (Google Maps)
Tent Ridge trail loop is a challenging day hike involving some slightly steep and rocky terrain with few short scrambling sections. Some may find this track a bit intimidating, but to me it felt the challenge was worth the reward. I did this hike during my very early years of hiking, without much experience, in cold weather and with half of the trail covered in snow. Use your common sense, have proper gear, know your limits and always turn away if you don't feel comfortable pushing on.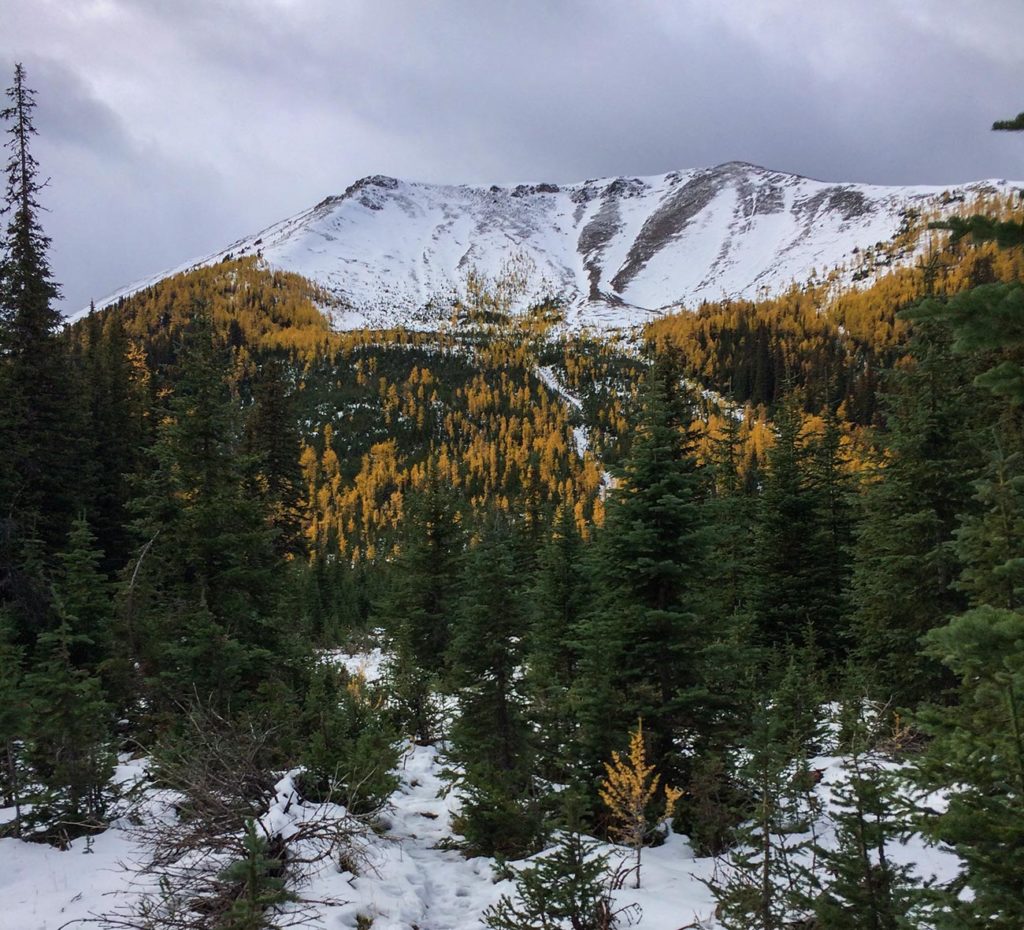 The trailhead is located along Mount Shark gravel Road. If you choose to hike this trail counterclockwise (like I did) you will have to park your car and hike for 0.1 miles further down the road to start on an old logging road which will merge into Tent Ridge Track.
After 0.4 miles from the trailhead, you will reach a trail junction where you will make a sharp left turn and will begin gradually gaining elevation. You should be able to see the right side of the ridge through the top of the trees for most of the time. I was there in early October and it was a larch trees paradise.
Once above the treeline, on your right side, you will see a clear view of Spray Lakes Reservoir. The area on top of the ridge can be very windy. If you're hiking during the time of the year when it is cold, it's a good idea to have your snacks and warmer clothing layers easily accessible (like wind jacket, hat or gloves) before getting above the treeline.
Once on top of the ridge, it's a straightforward hike and is nearly impossible to get lost. Just follow the ridge until you reach the other side and slowly descend below the treeline. Make sure not to miss a sharp left turn before you hit the treeline in order to stay on the trail (I ended up walking straight and missed the trail). You will come out to Mount Shark Road, make a left and continue all the way down to the parking lot where you've left your car.
As a rule of thumb and a good practice, always carry paper maps, compass and a pre-loaded GPS track on your fully charged phone. Always keep extra layer of warm clothing in your backpack as weather can be unpredictable in the mountains.