Lake Annette & Horseshoe Lakes Day Hike in Banff National Park
A classic hike through dense forest, with a stop over at Lake Annette, Horseshoes meadows and up to Horseshoe lakes that offer breathtaking views of the entire valley.
Trip Information:
---
Distance to Lake Annette: 5.6km (3.6mi) one way (moderate difficulty)
Distance from Lake Annette to Horseshoe Lake: 4.6km (2.9mi) one way (difficult and may require basic navigation skills in early spring/late fall when trail is covered in snow)
Total Distance (including Horseshoe Lake): 21km (13mi) Roundtrip
Estimated Duration: 8-10hrs Roundtrip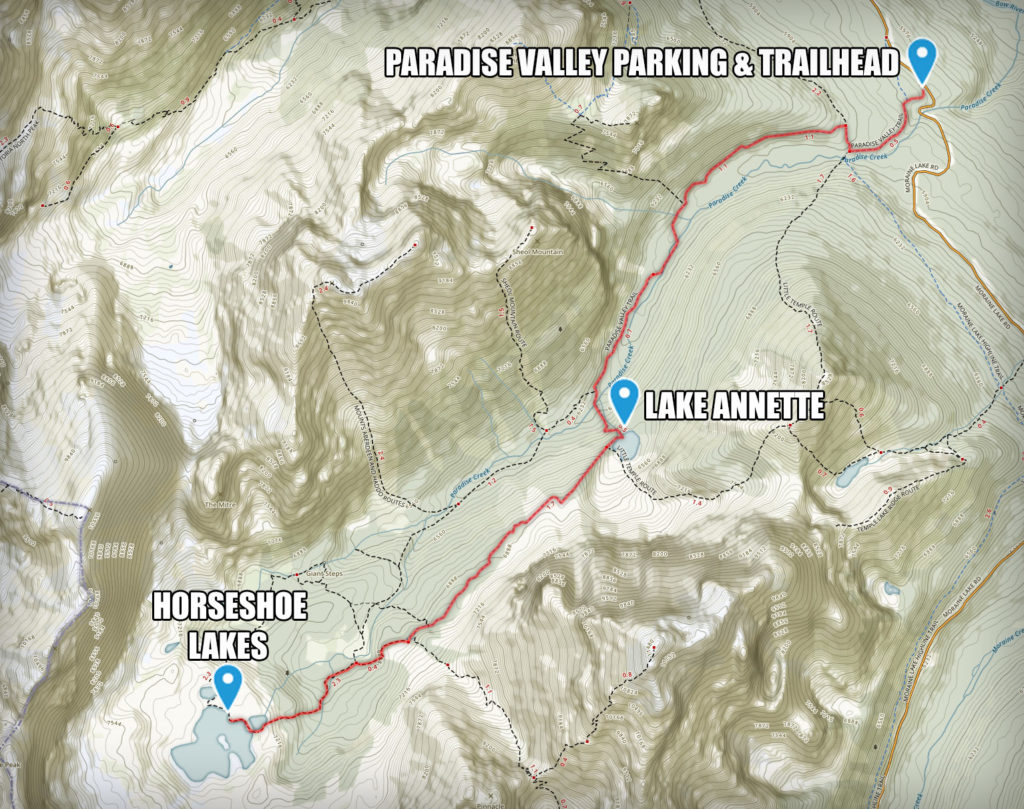 Due to Grizzly bears in the area, when hiking through Paradise Valley from months of July to the end of August, make sure to hike in larger groups and carry a bear spray at all times. For this hike, I've met up with some of my friends from Calgary and we did this route together.
The first section of the trail will take you through green, lush forest along Paradise Creek. It's a beautiful & wild terrain, the smell of fir trees will fill your lungs with freshness and aroma of pine needles.
The trail to Lake Annette is pretty straightforward and well maintained. It took us a little less then two hours to get to the lake.
Once up and over the lake, the trail will get above the treeline and will provide an opportunity for breathtaking views of the valley and the surrounding peaks.
Once above the treeline, the trail will pass through some rock debris until you reach the junction of Horseshoe Lake Trail. I can't quiet recall if there is a definite sign for the trail junction, as the trail was covered in snow. Due to snow, we had to use our navigation skills through the forest in order to get to the Horseshoe Lakes.
Once out of the woods again, you will reach the Horseshoe Lakes. There is plenty of opportunity to walk around and explore the area. The views over the lakes and down into the valley are simply breathtaking.