10-Day Canadian Rockies Itinerary to Banff and Jasper With Family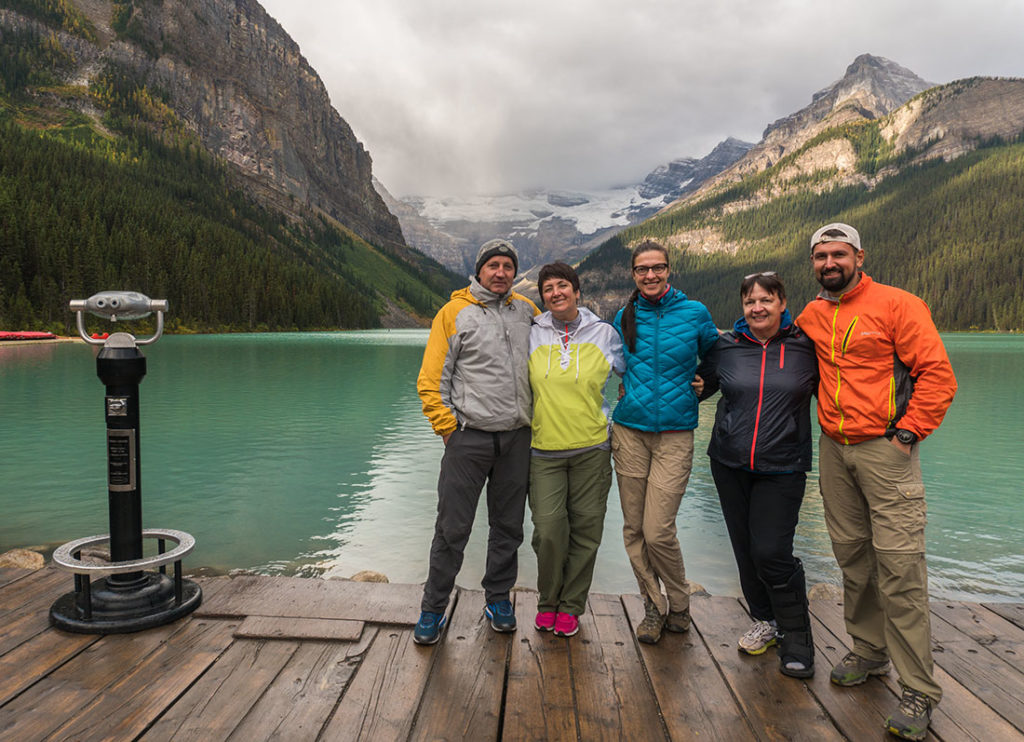 Ever since we laid our eyes on Canadian Rockies, it's been a long time aspiration to show our parents the beauty of these mountains. While Dasha's mom is always up for an adventure, I've tried nearly everything to break the all-inclusive resort vacation habit of my parents. I even came up with detailed, day-by-day itineraries for them to explore the mountains. Yet, they were afraid to leave their comfort zone and always resorted back to booking their all-inclusive vacation in Mexico or Dominican.
Not leaving us with much of a choice, we had to take matters into our own hands and make things happen. On my Dad's birthday, I gave him an envelope that contained 5 plane tickets to Calgary, scheduled to depart at the beginning of September. When he looked at the tickets and realized what it was, the first thing I said to him: "Dad, those tickets are not refundable, so we're going…" and that's how it all started!
Detailed Itinerary:
---
---
❖ DAY 1: Arrival to Calgary Airport, Car Rental Pick Up and Hotel Check-in
---
Upon arriving to Calgary International Airport, we were shocked to see how much smoke there was from fires raging both in US and Canada hundreds of miles away. As we stepped outside of the airport, we smelled smoke and it felt like a thick fog engulfed the entire city. Few minutes later we picked up our rental. A brand new Dodge Grand Caravan Minivan that we booked through www.rentalcars.com. Ideally, Chevy Suburban or Tahoe would be a more spacious option, but we only paid $377 for a 10 day rental, where a larger SUV would cost us over $1,000. Ain't nothing wrong with a good-old-new Minivan! Our hotel was also a perfect choice, 5 minutes away from the airport with delicious included breakfast. We rented a one standard room and a suite for a very reasonable rate at Homewood Suites by Hilton Calgary.
---
❖ DAY 2: Visit Upper Kananaskis Lake, Spray Lakes Reservoir, Lake Minnewanka and Camp at Johnston Canyon Campground
---
Luckily, when we woke up, most of the smoke was lifted, but we still couldn't see the mountains far in the horizon. After eating breakfast, we stopped by MEC Outdoor Store (it's like REI in US) and got some fuel for our backpacking stoves that we brought with us (MSR Whisperlite & Pocket Rocket). We have also pre-planned meals and brought a full suit case of food from US, as we did not want to waste any extra time shopping for groceries in Canada. Thus, we only had to stop a few times at a grocery store to pick up some produce throughout our trip.
It's a 2 hr drive from the airport through opening landscape of mountains to Upper Kananaskis Lake. My father never seen such large mountains in his life, so he was very excited! I remember the feeling, because six years ago, as my wife recalls, I was jumping up and down like a little boy at the same location.
I think here it's important to mention that Dasha's mom has fractured her foot just weeks before this trip, and had to wear a boot for the entire time. Therefore, we had to find flexible hiking options to make sure she could also enjoy the trip. After parking at Kananaskis Lake Parking Lot we hiked a small trail along the shore (Dasha's mom was able to hike it too). It's a very beautiful place and I highly recommend checking it out.  We then continued moving north on Smith Dorrien Road towards Spray Lakes Reservoir where we found some picnic tables and stopped to have lunch.
Later in the afternoon, we have finally reached Lake Minnewanka, where we stopped to stretch our legs and take some photos. Our final destination for the day was, Johnston Campground where we ended up camping for two nights. This campground is open from May 25 – Sep 25 each season; camping only, no trailers. One night camping fee is around $27 Canadian dollars. To make reservations, go to Parks Canada Reservation Service.
---
❖ DAY 3: Visit to Lake Louise & Lake Moraine. Hike Larch Valley Trail to Sentinel Pass. Lastly, visit Marble Canyon and spot a Grizzly Bear!
---
Lake Louise is a 30min drive from Johnston Canyon Campground. By 8:30AM, there were already tons of people and the closest parking lot was completely full. I recommend getting to Lake Louise around 7:30AM to skip the crowds madness and find reasonable parking. There are a few hiking trails in the nearby area ranging from easy – a simple walk along the lake, to difficult, multi-hour treks. In 2012, Dasha and I hiked the Plain of Six Glaciers hike and it was a blast, check out our Plain of Six Glaciers Hike Blog post for more details.
From Lake Louise it was only a 15min drive to Lake Moraine, where my parents and I hiked the Sentinel Pass Trail through beautiful larch trees valley. For complete details, see Larch Valley Trail to Sentinel Pass Day Hike blog post. Dasha and her mom decided to hang around the lake and soak up the views. There is a short 15min hike up to a beautiful lookout of Lake Moraine right off the parking lot which is worth doing if you're not planning on spending too much time here.
Larch Valley Trail to Sentinel Pass Day Hike is a challenging hike, and I was concerned about my parents' physical abilities. Although it was a hard trek, they did better than I expected and they loved it! My mom was able get to Minnestimma Lake and my dad was even able to get to the top of Sentinel Pass with me. The key is setting a steady pace without exacerbating all of your energy in the beginning. We took it slow, but at the end we got an enjoyable hike.  I felt super proud  of my parents, considering they are in their mid 50's and never hiked in their life before. The entire hike took us about 5 hours.
After Moraine Lake, we started heading towards Marble Canyon, which was the last stop on today's agenda before returning to our campground. Marble Canyon is an extremely beautiful place and I highly recommend spending at least an hour of your time here. To our biggest surprise, about a mile before reaching Marble Canyon, my mom spotted a Grizzly Bear along the road. We kept a safe distance in the car and with my foot near the gas pedal, we stopped and took photos of the bear without getting out of the car. Needless to say, it was an amazing experience. Please, never feed or approach closely to take photos of wild animals. They are not your pets, and you are in their home so be respectful.
---
❖ DAY 4: Hiking Johnston Canyon, visiting Takakkaw Falls in Yoho National Park, Canoeing at Emerald Lake and check-in to Num-Ti-Jah Lodge by the Bow Lake
---
In the morning, we packed up our tents and drove towards Johnston Canyon Trailhead. It's a relaxing hike though a narrow canyon gradually climbing along the river and passing by lower and higher falls. This hike should not take more then 1-2 hours of your time. Back in our car, we started driving toward Yoho National Park to visit the beautiful Takakkaw Falls. It's a spectacular sight and only a short walking distance from the parking lot where you can get really close tot he foot of the falls. If you're a climber, there is a lot of climbing opportunities in this area.
The last thing on our agenda was visiting Emerald Lake. We rented two canoes explored beautiful views and waters of this magnificent lake. Once we got sore from paddling the canoes, we started heading towards Num-Ti-Jah Lodge located right on the banks of the Bow Lake. This lodge was build in 1950s and is filled with a lot of history. It has been visited by many famous people, including one of my most favorite writers, Dale Carnegie. This lodge definitely has a rustic feel, with a bit outdated rooms which didn't bother us too much but don't expect a 5 star hotel. They also have a restaurant for quests only where you can make a dinner reservation.
---
❖ DAY 5: Hike to Bow Glacier Falls. Visit Mistaya Canyon and Peyto Lake.
---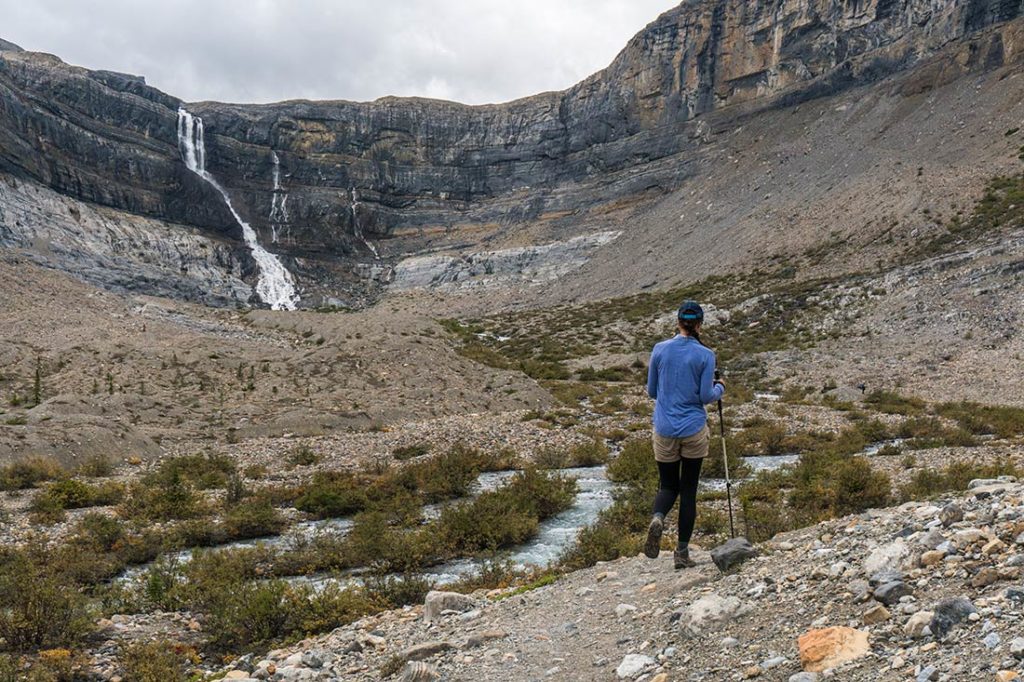 We started our day with doing a quick 2-3 hour hike to Bow Glacier Falls. The trail head is located right off Num-Ti-Jah Lodge. It's a 5.4mi round-trip hike with minimal elevation gain that takes you all around the Northern side of the Bow Lake and up to Bow Glacier Falls. At certain points you can easily spot the Bow Glacier hanging over the Iceberg Lake.
Once back at the car, we started driving towards Athabasca Glacier. Along the way we stopped and visited Mistaya Canyon and the beautiful Peyto Lake! You should definitely not miss these two places! Peyto Lake scenic viewpoint is pretty much accessible right from the parking lot, where Mistaya Canyon requires a very short 0.2mi hike. The weather hasn't been cooperating with us, so after Mistaya Canyon we decided to drive straight to Glacier View Inn and call it an early night. This hotel is located right in front of the Athabasca Glacier!
---
❖ DAY 6: Hike Parker Ridge Trail. Athabasca Glacier Tour. Visit to Sunwapta Falls and Athabasca Falls.
---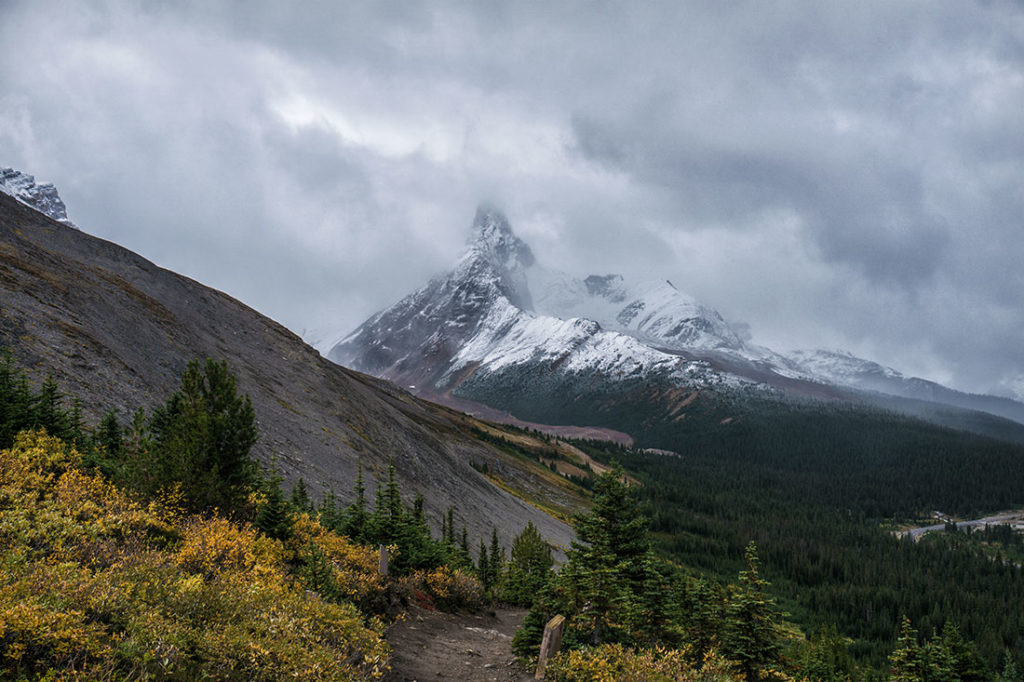 Today, my wife, my dad and I are going to hike Parker Ridge Trail. All of the information for this hike can be found in our separate blog located here: Hiking Parker Ridge Trail To Saskatchewan Glacier Outlook. On the other side, our moms will get to enjoy the iconic glacier adventure on All-terrain Ice Explorer that we pre-booked ahead of time. The tour offers a chance to walk on Athabasca Glacier and visit recently constructed Skywalk. All of the information can be found here: The Iconic Glacier Adventure.
Around 2:ooPM we were back at Parker Ridge Trailhead Parking Lot. Few minutes later we picked up our moms and went toward Jasper to Wapiti Campground that we also reserved ahead of time. Along the way, we stopped by the Sunwapta Falls and Athabasca Falls. Both of these places are conveniently located along the The Icefields Parkway with a very short walking distance.
---
❖ DAY 7: Hike The Valley of Five Lakes Near Jasper, visit Medicine Lake and Maligne Lake, soak up in Miette Hot Springs and return back to Wapiti Campground
---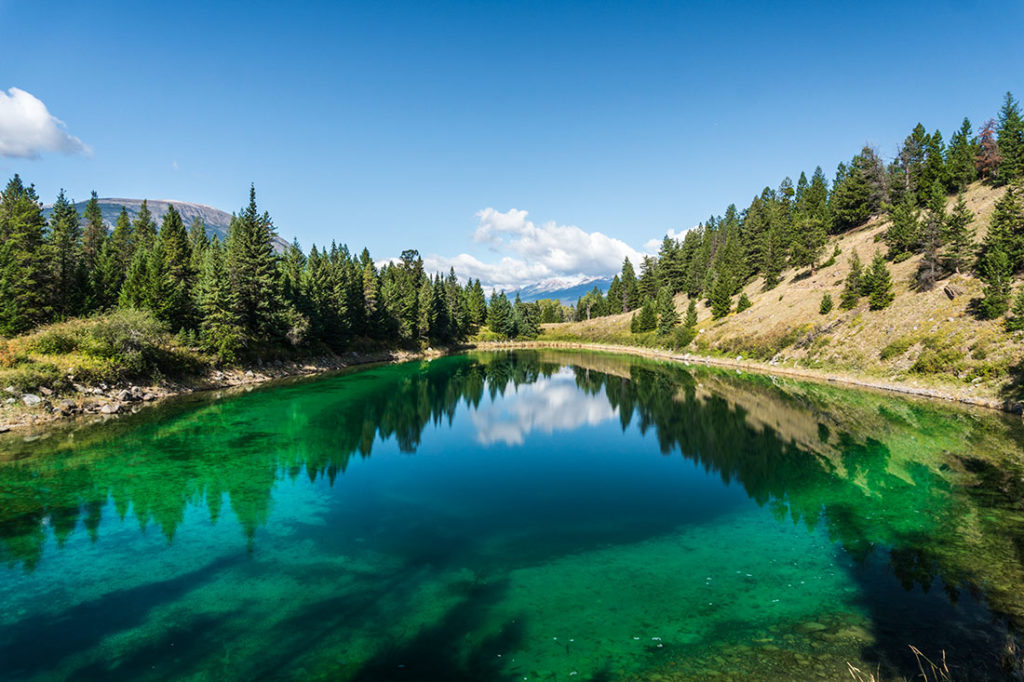 In the morning we left our campground and went to hike The Valley of Five Lakes Near Jasper. The detailed blog and all of the information can be found here: Hike The Valley of Five Lakes Near Jasper. It took us under two hours to complete the circuit and return back to the parking lot.
The next thing on our agenda was to visit Medicine Lake and Maligne Lake. At Maligne lake, you have an option to take a boat ride all the way to the other side to Coronet Creek Back-country Campground and back! Apparently, since the last five years my wife and I were here, the boat rides became very popular and everything was sold out by the time we got there. Make sure to reserve online ahead of time. We will include some of the photos from our previous trip.
After leaving the valley, we drove straight to Miette Hot Springs to watch sunset and enjoy beautiful natural hot springs. In the evening we drove back to Wapiti campground.
---
❖ DAY 8: Explore Mt.Edith Cavell, Hike portion of Cavell Meadows Trail, Visit Athabasca River Lakes and watch Northern Lights Over Wapiti Campground.
---
Yesterday, I had to stop by Jasper's Tourism Office and pick up permits in order to visit Mount Edith Cavell. It's a beautiful drive through a narrow road that takes you all the way up to Cavell Lake and the lagoon under Angel Glacier. This is one of the must see places in Canadian Rockies. Once you park your car, it's a very short hike up to a scenic overlook. There is also a lot of hiking opportunities in this area. We only did a short section as my parents were getting a little tired and we didn't want to push them to hard. All of the hiking trails and information can be found here: LINK
Later that day, we drove around some of the lakes to the east of Jasper, trying to find a good place to catch trout. Unfortunately my dad brought all the wrong fishing equipment and caught nothing 🙂 It got pretty cold toward the evening, and my wife and I became a little concerned. We bought -6C (20F) sleeping bags for our parents, but the temperature was supposed to drop below -4C (24F) so I immediately knew that tonight won't be a comfortable night. We made our parents to put on every single bits of available clothing and tucked them tight in their sleeping bags in their tents. But before we did that, at one point I noticed a lot of light shining behind some of the mountains and automatically thought that the full moon was rising. After careful examination I realized that it was The Northern Lights slowly appearing in the skies! We all felt blessed and joyfully watched one of the most spectacular shows of our lives!
---
❖ DAY 9: Hiking the Whistlers Trail to Jasper Skytram Terminal, than driving back toward Edmonton to catch a flight back to Philly the next morning
---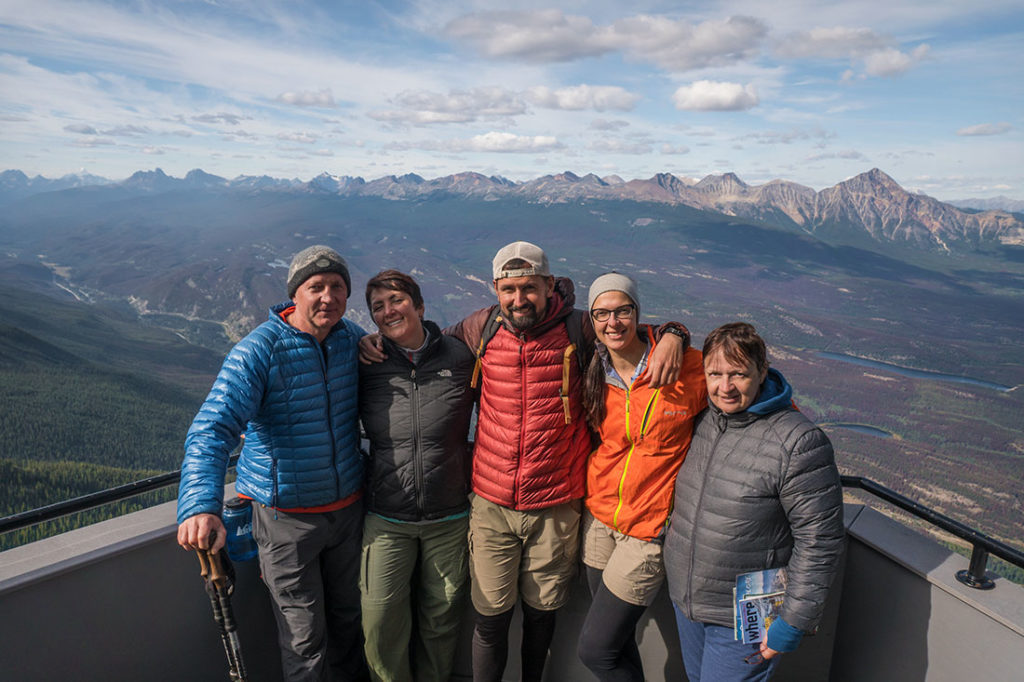 The very last thing on our agenda was to get to the top of SkyTram terminal and show our parents amazing views of Jasper near the Whistlers Peak. Since 2012 the prices for SkyTram has nearly doubled and a single ride per person will cost you $50. Considering that me and Dasha always wanted to hike the trail, we figured, might as well save a $100. It took us about 2 hours to get to the top, but keep in mind, the hike is very strenuous and we felt pretty exhausted by the time we reached the terminal. Detailed blog for hiking this trail can be found here: Hiking Whistlers Trail To Jasper Skytram Terminal. Soon after, we all took the SkyTram down to the parking lot and went on our way to Edmonton, which is about 4hr drive east from Jasper.
One of the things that I wanted to mention and make visitors aware, are the pine Beetle situation happening in North American and all over the world. The dark red pine trees on the photos are actually dried up dead trees that were killed by an epidemic of Pine Beetles. Over the past few years, the Beatles have been rapidly spreading throughout the region. There is only one way to kill it, is by having a cold winter of -30C for a week or two. But because we keep having the warmest weather on record over the past 15 years, the winters aren't as cold as they used to be and the Pine Beatles can thrive freely and continue devastating the environment. Take a look at the photos above to see the difference. It only took five years…
---