Lake Louise Plain of Six Glaciers Day Hike in Banff National Park
A must do hike for anyone trying to explore beautiful landscapes around Lake Louise. This hike will take you through colorful shores of Lake Louise and up to a Tea House, where you can enjoy a nice variety of teas, in-house baked bread, chocolate cake and some lemonade. At the end, you will be rewarded with magnificent views of Lefroy Glacier.
Trip Information:
---
Distance: 13.6 km (8.5 mi) round-trip
Elevation Gain: 450 meters (1,500 ft)
Estimated Duration: 6 – 8Hrs roundtrip
Directions: From Banff
Alltrails Map: Plain of Six Glaciers
---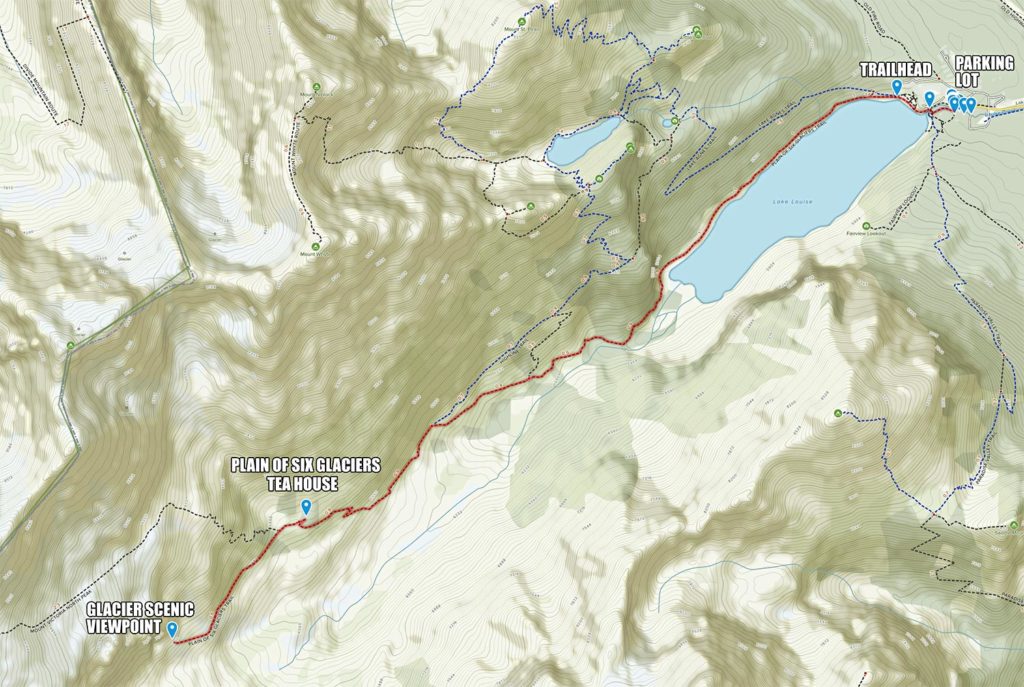 I would recommend starting as early as possible in order to beat the crowds and enjoy the solitude of beautiful sunrise over the valley. Please note, the parking lot behind the lake gets filled really quick and you would have to park at the alternative lot and possibly may need to take a shuttle to the lake from there.
You will begin your trek along the shores of Lake Louise near Chateau. Make sure to ignore the Lake Agnes Trail on your right and continue along the lake shore to stay on Plain of Six Glaciers Trail. If you're only looking to do a short hike along the lake, this could be a good turning around point as there is no trail that actually circles the lake. As you continue your hike, you will be rewarded with views of Chateau and less crowded atmosphere.
When you have passed the lake, the trail will slowly start gaining elevation. Once you're above the treeline, you will start seeing some of the best spectacular scenery the Rockies has to offer. ]
At around 3.8 miles, you will reach the Tea House turnoff. I recommend visiting it prior to reaching the endpoint, because it will get a little crowded later in the morning and afternoon. We ordered hot soup, tea and freshly baked bread. You can also get lemonade, chocolate cake, chips, salsa and many other items from their menu. Groceries are delivered here by horse, so it definitely felt like a special treat!
After taking some rest and crunching the hunger, we left the Tea House and continued on. The trail becomes slightly unmaintained, but no where near technical. You're pretty much hiking on large ridge stairs on the north edge of Victoria Glacier until you reach the end wall of the valley. We ended up scrambling around trying to find a nice place to relax and inhale the view before turning around and going back to the parking lot.