Larch Valley Trail to Sentinel Pass Day Hike in Banff National Park
Sentinel Pass is a popular day hike in Banff National Park located right off beautiful Lake Moraine and the world famous Valley of Ten Peaks. The valley was featured on the 1969 and 1979 issues of the Canadian twenty dollar bill. In mid-September, the Larch Valley is filled with golden larch trees which are in prime of changing their foliage, attracting travelers from all over the world to explore and experience one of the most colorful natural phenomena.
Trip Information:
---
Distance: 10.5 km (6.5 mi) round-trip
Elevation Gain: 760 meters (3,000 ft)
Estimated Duration: 4 – 7hrs round-trip
Directions: From Banff
Alltrails Map: Sentinel Pass Trail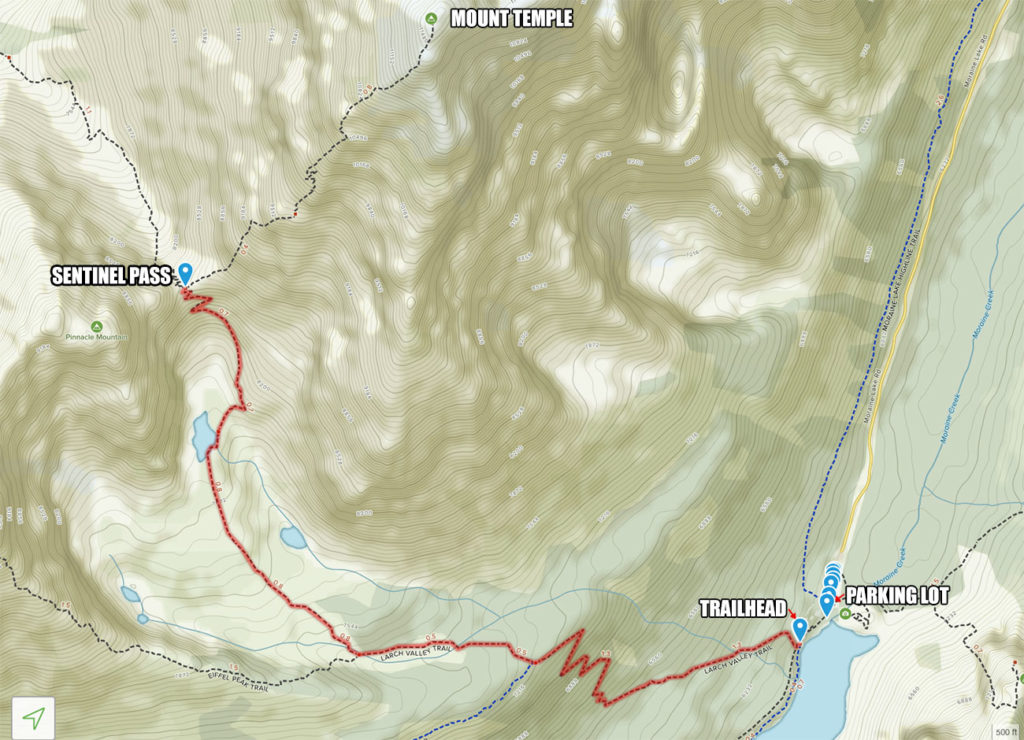 The Larch Valley trailhead is located right off Lake Moraine parking lot. When you approach the trailhead, you will see a sign warning that you must hike in groups of 4+ people due to the increased grizzly bear activity in the area. Since this is a highly popular hike, joining a bigger group or tagging along if you're solo shouldn't be a problem.
Stay to the right and you will quickly gain elevation through a series of switchbacks in a dense pine forest. Occasionally, you will be able to get a glance of the vivid turquoise colors of Lake Moraine's glacier fed basin.
Eventually, the terrain will level out and you will enter a beautiful plateau filled with thousands of larch trees surrounded by giant cascading peaks.
Once you've gotten above the treeline, you will reach the Minnestimma Alpine Lake with clear views of switchbacks up ahead leading up to the Sentinel Pass. It's a relatively short, but very steep and strenuous climb. The trail is filled with loose rocks, so be careful, wear proper shoes and take your time.
Once over the pass, you will be rewarded with magnificent views of the Paradise Valley. This is the highest point in Canada that could be reached by a hiking trail at elevation of 8,528ft. It can get pretty windy at the pass, so make sure to bring an extra layer of clothing to keep warm.