The Ultimate Two Week Road Trip & Outdoor Adventure In California
A one of a kind two-week itinerary for anyone wishing to get the most out of their California Experience. Drive up the famous RT1 aka Pacific Coast Highway. Explore parks and camping opportunities along the way. Visit San Francisco and local wineries. Hike North of SanFran, visit Yosemite National Parks, Kings Canyon National Parks and Death Valley National Parks.
Trip Information:
---
Miles Driven: 2,000 km (1,200 mi) roundtrip
Trip Duration: 14 Days
Google Maps Route: Needs to be updated
Trip Summary:
---
California has been on our bucket list since the time when we first visited the Canadian Rockies. We always wondered, what would the parks such as Big Sur, Yosemite, Kings Canyon or Sequoia be like? How does it feel to ride on the Highway 1 from Los Angeles to San Francisco on a sporty convertible with the top down and camp along the coastal mountains. How large does the Golden Gates Bridge feels in person or how hot it does it get in Death Valley? These are one of many questions that we are going to find the answers to as we take you on our two week journey through the beautiful sunshine state of California. Below are some of the photos from our two-week adventure
---
❖ DAY 1: Arriving to Los Angeles And Getting To Our Campground Along hwy 1
We arrived at Los Angeles International Airport (LAX) at noon. Picked up our rental and went to visit a friend that lived in downtown. After grabbing some amazing food around Audrey Hepburn Wall Mural, at 4PM we were on our way to Washburn Campground which is about 4 hours drive north from Los Angeles. Since we were slightly behind our schedule, we skipped some of the food places along the way that we really wanted to try. A popular Neptune Net Restaurant with 10$ Seafood plates, Santa Barbara Shellfish Company and famous McConnell's Fine Ice Creams. Please visit our Custom Interactive Map to see these places along our route.
When we got to our campground, it was already dark. We quickly set up our tent, ate some super delicious Backpackers Pantry and watched moon rise over the horizon.
---
❖ DAY 2: Hike Rocky Ridge Trail Loop & Watch Elephant Seals Gathering
The next morning we woke up to a beautiful Sunrise. It's the middle of October and it gets pretty chilly, especially in the morning. Consider bringing a puffy with you. Once we made the breakfast, we were on our way to Garrapata State Park to Hike the Rocky Ridge Trail loop. It's a moderate 5-mile loop hike to the top of the mountains, overlooking a large area of coastal region. A very detailed information about the hike can be found here: Link
Right before Garrapata State Park, there is a popular location (marked on our interactive map) where you can spot the biggest gathering of Elephant Seals within the area. There were literally hundreds of them. More detailed information, including the best time to see the seals can be found here: Link
Once we got back to our car, we started heading toward Butano State Park Campground located about two hours north from Garrapata State Park, which was our final stop for the day.
---
❖ DAY 3: Wine Tasting and Arriving To San Francisco's Treasure Island
After spending a night at an awesome campground in Butano State Park we were on our way to Thomas Fogarty Winery to do some classic California wine tasting with beautiful views overlooking the bay.
Once our tour was completed, we started moving toward Treasure Island to our Airbnb. We were planning on going out that night, but we were also a little tired from two days of camping and an East Coast jet leg. We ordered some pizza and beer and called it a night!
---
❖ DAY 4: Exploring San Francisco, Breakfast at Mama's and Cable Car Rides!
Our morning started at Mama's! If you were in San Franscisco and haven't tried breakfast at this place, you have definitely missed out on some amazing food! We ate it so quick that we forgot to take pictures of what we ordered 🙂 About 20 minute walk from Mama's, there is a San Francisco Maritime National Historical Park and a Hyde Street Pier. Both places provide have clear views of the Golden Gates Bridge & The Alcatraz. ]
It is also the starting point for Powell-Hyde Line, the San Francisco's Famous Cable Car  which can take you all around town and are super fun to ride. You can hope on and off all day long. You can visit the official website to get the latest information regarding prices and schedules or download a phone app. Later that day we also visited the area of downtown, which was completed abandoned because of the weekend. We also visited Chinatown and the waterfront near Ferry Marketplace. In the evening we grabbed some food and went to explore the area around Battery East and try to take some photos of Golden Gates bridge during sunset.
---
❖ DAY 5: Morning Sunrise at Golden Gates Bridge and Hiking Mt. Tamalpais
Today we woke up an hour before dawn in order to catch sunrise at Golden Gates North Viewpoint. It's been extremely cloudy in the past few days and today's weather conditions were not much of the improvement.
For our Mt.Tam hike we've used a paper map that is unfortunately long gone, so I am not able to recall the exact route, but I would love to suggest some of similar hikes in the area. If you're in for something simple that overlooks the bay, Plank Walk Trail to Mt. Tamalpais East Peak is a good choice. If you prefer more of the coastal scenary, The Miwok and Coastal Trail Loop Hike would be your best option. If you're in for a full day of hiking, I would recommend Stinson Beach to Mount Tamalpais Trail. Keep in mind, this is a 15 mile hike, so you would need to start early.
Once we finished hiking, we immediately hit the road. It's a 4 1/2 hour drive from San Francisco to Yosemite Valley. We will spend this night an hour away from the Park entrance at a cheaper roadside hotels. Accommodation within the valley can be pretty limited and fairly expensive.
---
❖ Day 6: Arriving to Yosemite, Hiking at Mariposa Grove Along Giant Sequioa Trees
Before entering Yosemite, there are quiet a few good options to get breakfast. I would highly recommend visiting Priest Station Cafe which is owned by Conrad Anker's Family. Best food all around and great people!
When approaching the valley, the first things that you will see is the El Capitan and Half Dome towering high far in the distance. We could not believe the sheer scale of these massive rocks. It's a truly unforgettable experience!
The first thing on our agenda was to visit the Mariposa Grove, which is home to Giant Sequoias Trees. I highly recommend spending at-least half of your day here, this place is truly unique and beautiful!
You have few options exploring this area. If you're short on time, you can take Big Trees Trail (Easy 0.3mi) and explore different kind of trees and read lots of historical facts. You can also choose a Grand Tour which is an eight hour guided tour that will take you from Yosemite Valley, to Mariposa Groove and Glacier Point. Or you can also choose to hike the Mariposa Grove. Please see hikes below:
---
❖ Day 7 – 8: Overnight Hike from 4 Mile Trailhead, up to Glacier Point and down to Yosemite Tunnel View
After Spending A Night at Backpackers Campground we were up before dawn in order to get to Tunnel View to photograph the valley during sunrise and begin our hike at 4 Mile Trailhead. All of the details for this hike can be found in a separate blog by clicking on this Link
---
❖ Day 9: Cathedral Lake Hike And Head Down Sequoia National Park
Today we are leaving Yosemite Valley and heading toward Tuolumne Meadows to hike on John Muir Trail (JMT) down to Cathedral Lakes. Along the way, we stopped by Olmsted Point and beautiful Tenaya Lake with it's crystal clear waters. Cathedral Lakes Trailhead is conveniently located along Tioga Rd near Tuolumne Meadows. Detailed information about the hike can be found in our seperate blog by following this LinkWe finished with our hike around 5:30PM and started to head down to our hotel near the town of Fresno, located west of  Sequoia National Park. Directions from Cathedral Lakes Trailhead
---
❖ Day 10: The General Grant Tree, Kings Canyon National Park & Sunset At Moro Rock.
After spending a night at Fresno, we were on our way to Kings Canyon National Park. Our first stop was by General Grant Tree that was conveniently located along road 180. It's definitely worth spending at-least an hour of your time here.
After spending some time between Sequoia Giants, we slowly continued driving inside The Kings Canyon Valley. The scenery was beautiful and unique! We were stopping every 5 minutes to take photos! On our agenda, we planned to do some hikes at Copper Creek Trailhead. But while doing the initial research, I've made a novice mistake and didn't realize that Road 180 does not cross Kings Canyon to the other side… And because of that blunder, we didn't get to do much hiking that day and had to drive for almost 7 hours in order to get to Kearsarge Pass, where we planned to do an overnight hike next day. Our last stop for the day was at Sequoia Park to watch Sunset at Moro Rock. Three is also a Hanging Rock right next to it if it gets crowded.
---
❖ Day 11-12: Hiking Kearsarge Pass in Kings Canyon National Park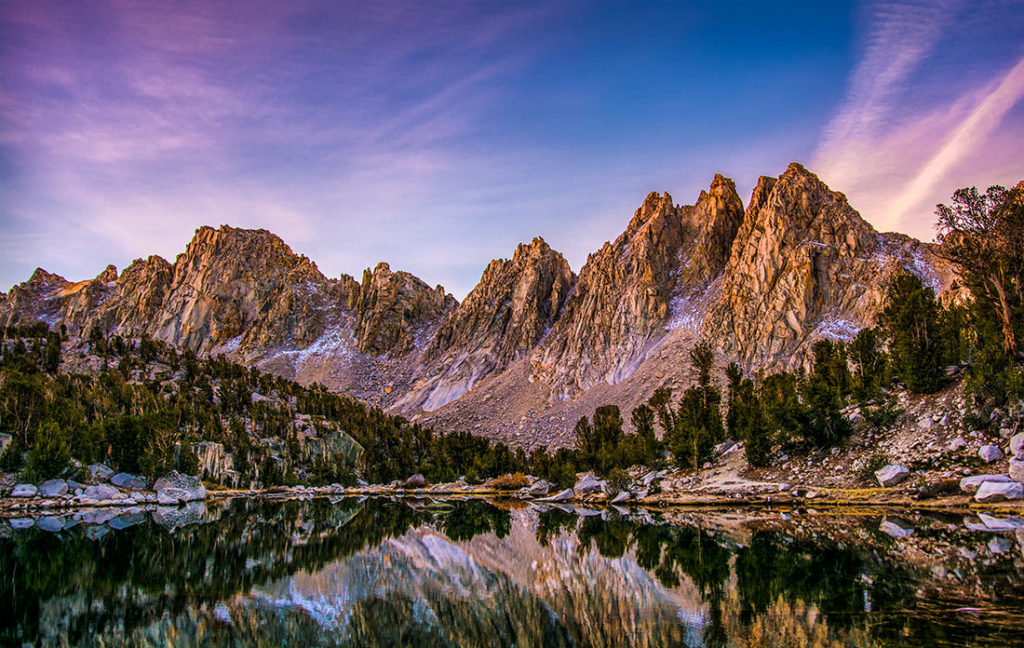 I must admit, just the drive itself, from the town of Independence to Kearsarge Pass was simply mind blowing! We would stop every few minutes just to simply inhale the constantly changing view! We've arrived to trailhead parking lot around noon time. After packing our bags, we were off on our short, two day adventure! Detailed blog for hike can be found by clicking this LinkWe got back to our car around 6PM the next day after hiking to Bullfrog Lake. The next thing on our agenda was to visit Death Valley National Park. That same evening we drove for nearly 3 hours toward our campground at Furnace Creek. It was a drastic change, going from 12,000 feet down to -100 feet in a matter of few hours. We had fears of our heads exploding on the way down! Luckily that didn't happen! 🙂
---
❖ Day 13: Death Valley National Park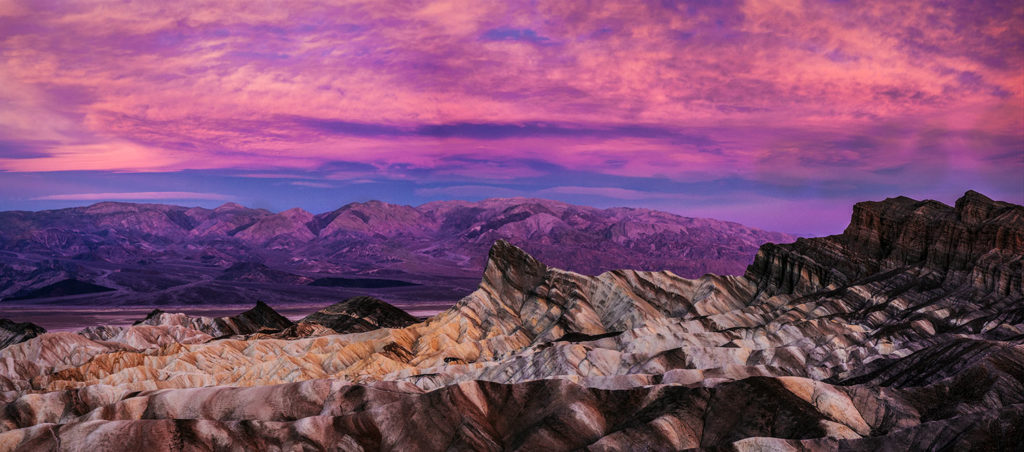 We spent the night at Furnace Creek Campground and let me tell you, what a contrast it was! Going from negative temperatures the night before, to nearly 85F (+30C) degrees at night. It almost felt like we were on another planet. In the morning, we woke up before dawn and drove to Zabriskie Point to watch sunrise over this magical landscape.
---
Once the sun was above the horizon, we decided to visit Dantes View, which is a large observation area located on top of the mountain at the elevation of 5,500 feet (1,669m). The place is truly incredible and provides amazing views of the surrounding landscapes. On a clear day, If you look to the west toward Sierras, you might be able to spot Mt.Whitney 14,505′ (4,420m), if not, Telescope Peak standing tall at 11,043′(3,360m) should be fairly visible for most of the time. And yes, watch out for those tarantulas 🙂
---
Another incredible place that we got to visit was an Artists Pallete. It's an impressive 9 mile drive that takes you through canyons and mountains that are covered in many pigments. These colors are caused by the oxidation of different metals (iron compounds produce red, pink and yellow, decomposition of tuff-derived mica produces green, and manganese produces purple). About 5 miles down the road, there will be a parking lot that provides an opportunity for a short hike.
---
A really cool place to visit was a Badwater Basin. It's the lowest point in North America, with a depth of 282 ft below the sea level. It's very ironic, because Mt.Whitney, is the highest point in the contiguous 48 States and is only located 85 miles from the basin. It's a short walk and highly recommend stopping by this place.
---
❖ Day 14: Death Valley National Park
After spending a night at Stovepipe Wells Campground the first thing we wanted to check out, was the Mesquite Flat Sand Dunes. These dunes are the best known and easiest to visit in the national park. Easily accessible from Hwy. 190 or from the unpaved Sand Dunes Road. Keep in mind, there are no trails because of the continuously shifting desert sands. Find a point to the highest dune, and go directly toward it. Also, hydrate really well before you go and bring lots of water!
After checking out the dunes, our vacation was coming to an end and we had to drive back to Los Angeles to catch our overnight flight to Philly.
---