Reykjadalur Hot Springs Winter Hike
Winter is definitely one of the best times to visit Reykjadalur Hot Springs. The benefit of it is obvious, you pretty much get the whole place to yourself. During spring, summer and fall, there would be at-least few dozen of people, but not in Winter! If that's not convincing? Think of the cool winter temperatures outside while being submerged in a steaming hot river, completely surrounded by snow cornices.
Trip Information:
---
---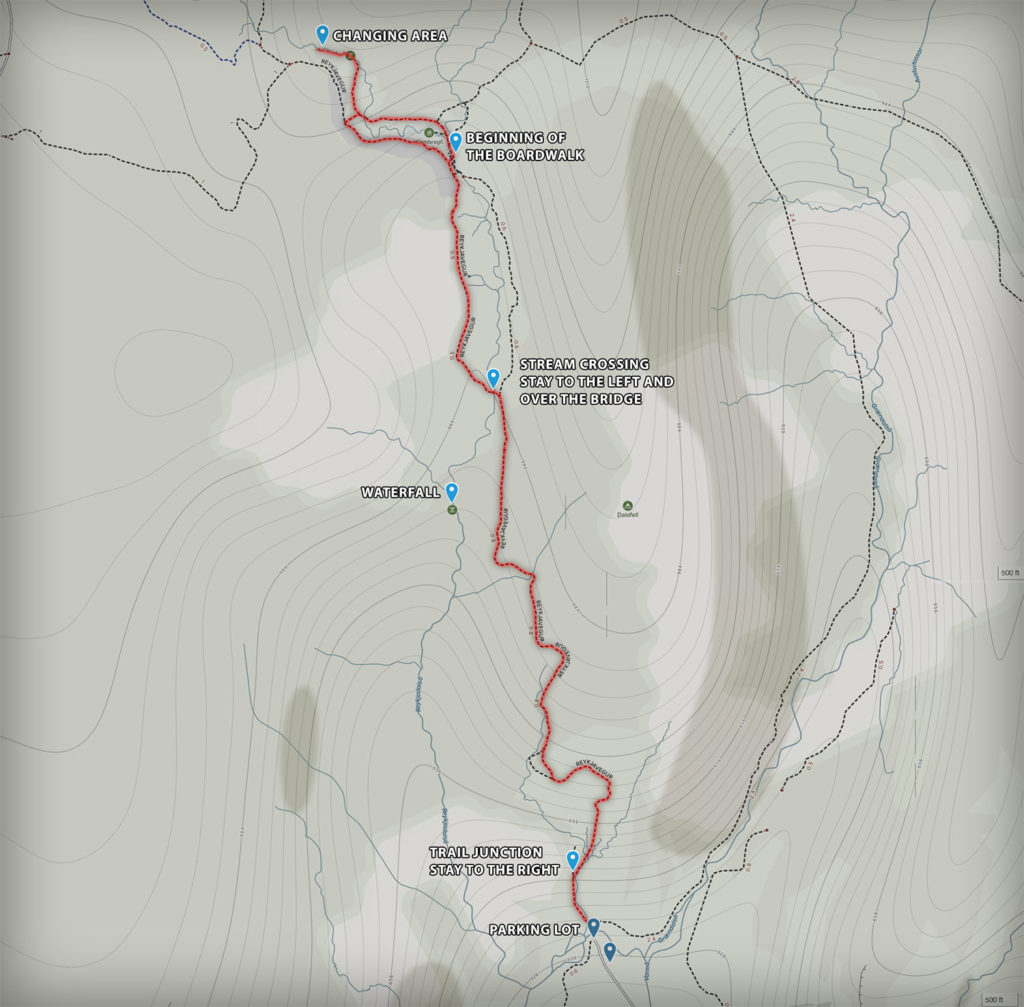 ---
Before You Go:
Please make sure to check the weather forecast or download Vedur App for your phone. You don't want to end up being stuck in a whiteout blizzard and get lost. It's a popular route that still gets plenty of traffic during winter, so the trail is mostly visible for most of the time along with some trail markers.
---
Things to Consider:
It was a windy day and we were worried that it would be too windy to enjoy the hot pools. At the trail parking lot, a few returning hikers mentioned that the water was nice & hot and the wind was not a bother since the river is flowing through a mountain valley. We did not need micro spikes or snow shoes for this hike. We judged by the amount of surrounding snow and figured that wearing winter gaiters and using just hiking poles was enough, although it's typical to have more snow at higher elevations. If you're nervous, you can wait for some returning hikers and ask them trail conditions just to be sure.
---
General Advice:
It took us about 1.5 hours one way to get to the hot pools. The trail leads through a series of bends and turns until you get very close to Reykajadalsa river that you will continue along until final destination.
When you get to Hot Springs, the further you go up the hotter the water gets so you can easily regulate the temperature to your liking with simply moving up or down the current. Although it was a windy day, it didn't bother us because we were submerged in the divinely hot water and river banks provided cover from increasing winds. We even jumped in the snow a few times to cool off.
The most uncomfortable part was changing out of a wet swimsuit and getting dressed in freezing wind. There are wooden barriers for privacy, that can also serve as wind protection.
If you get cold while changing clothing, don't panic! You will immediately warm up once your blood starts circulating while hiking back to the parking lot.
Consider bringing small and large plastic bag for your wet and dry clothes that you can put in your backpack.
Don't forget to bring a towel with you.
Flip-Flops is definitely a good idea to have.
Don't store your clothing items to close to the river, otherwise it will get wet and turn to ice.
It's fun experience and very well worth it!
---