Hiking Mount Lafayette In Rough Winter Weather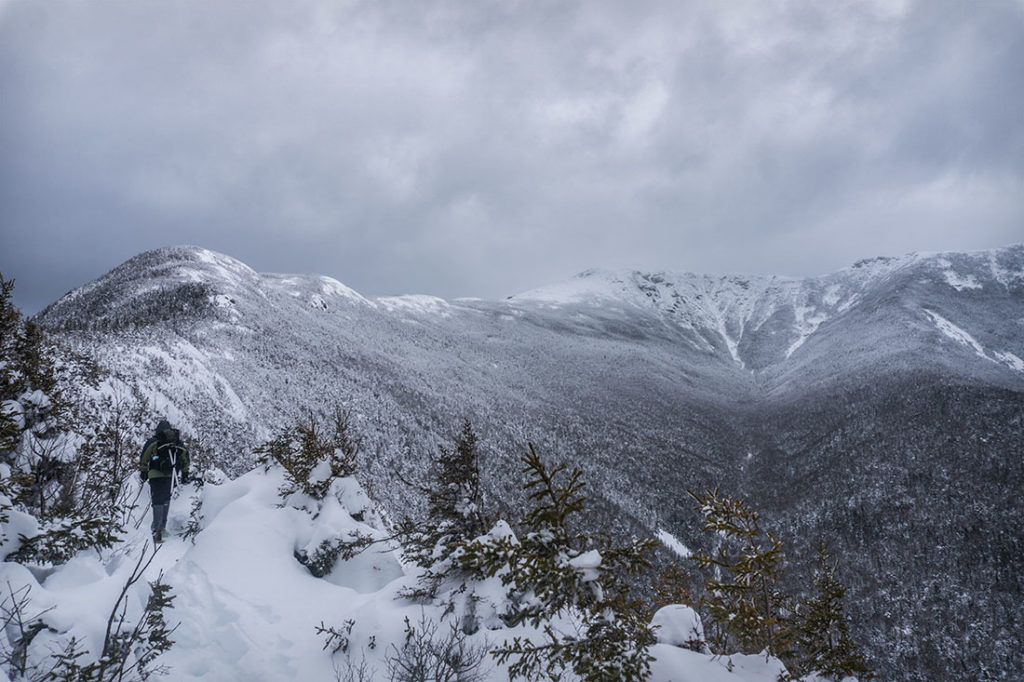 Recognized by National Geographic as one of the top 10 trails that will blow your mind, Mt.Lafayette (5,260 feet) is the highest peak in Franconia Ridge and is also a part of White Mountain National Forest. The summit offers an amazing opportunity to experience and capture panoramic views of Pemigewasset Wilderness Area. On a clear day, you should be able to see presidential peaks including Mt.Washington.
Hike Information:
---
Distance from Trailhead to Summit: 7.2mi (11.5km) roundtrip (Red Line)
Distance for the Loop: 8.7mi (14km) (Red Line + Orange Line)
Estimated Duration: 6-8Hrs
Interactive Map: Alltrails Map
Directions: Trailhead Parking Location
Initially we planned on doing the entire loop, starting at the parking lot and hiking to Mt. Lafayette, Mt.Lincoln, Little Haystack and descending down over Falling Waters Trail. Unfortunately, the weather was very rough and we kept getting hammered by heavy wind and snow. Eventually, as we were approximately 400-600 feet away from the summit, we had to turn around as we were not prepared for constant bombardment of 60-70Mph winds with negative chill factor of over -40F. ]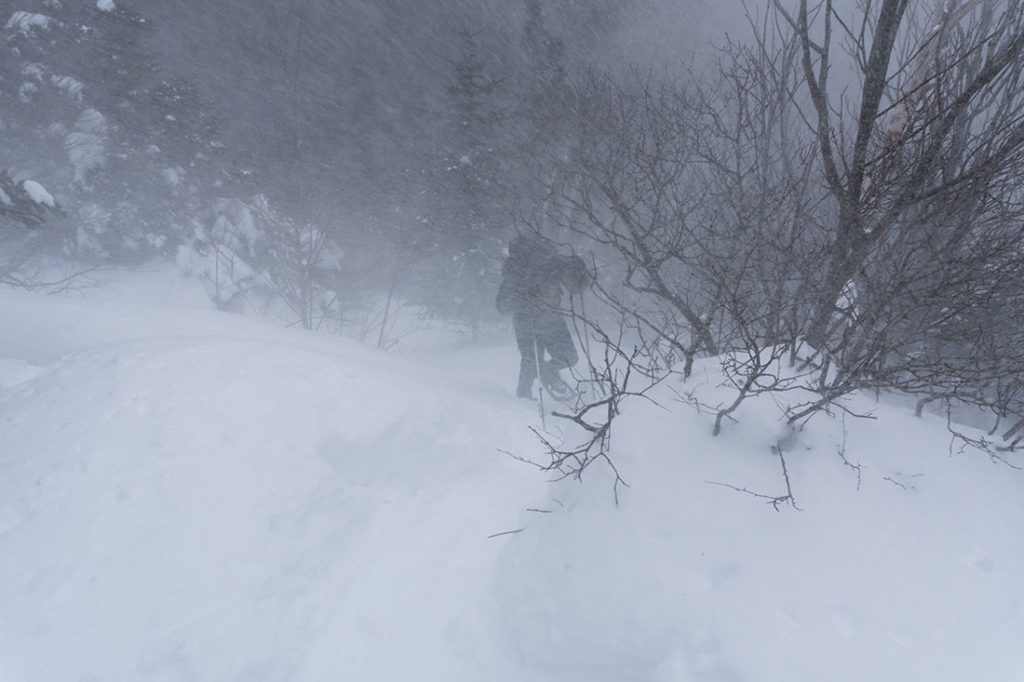 From the trailhead parking lot, hike for 1,200ft (360m) until you reach a trail junction. Make a left onto Old Bridge Path, and continue through a series of switchbacks below the tree line. About a mile and half into the hike, you will finally reach the ridge and will have a clear view of Mt.Lafayette. When we started hiking on the ridge, the weather kept changing every 5 minutes. It would range from complete windy whiteouts to nice and calm with clear views of Mt.Lafayette.
---
When you get to the hut, it will be closed for the winter, but depending on wind direction, you should be able to find shelter on one of it's sides. It's a good spot to take a look around, grab some quick food and get warm clothing ready. We saw some dark clouds approaching very far in the horizon. Not wasting anytime, we rushed toward the summit, hoping to get there before the storm.
---
Soon enough, we found ourselves half way toward the summit, being fully bombarded by 60-70Mph an hour winds and occasional low visibility. At first, we thought that we can still make it to the top, despite strong wind and severe wind chill. The snow would get fairly deep at times, hiding sharp and uneven rocks beneath it. Having nearly rolling our ankles, my cheap googles started to fog up. But that was the least of our worries. Since it was Alex's first time winter mountaineering in NH, he didn't have warm enough gloves, so his hands started to freeze up. After giving him my mittens, it only took couple minutes for my hands starting to freeze in his gloves. The closer we were getting to the top, the stronger the wind force would be. Soon enough we realized that this is not worth it and it's time to turn around.
---
By the time we descended back down to the hut, we quickly looked back and saw a big blue opening in the sky. By the time we were getting ready to descend down below the treeline, there was not a single cloud in the skies. If only we waited by hut for about 30 minutes, we would have gotten to the top without any problems. But unfortunately, this is how the alpine weather is, and sometimes there is just not much that we can do. Yes, we didn't get to the summit, but at-least we get to live to hike another day 🙂
---