Top Questions Asked When Planning Tour Du Mont Blonc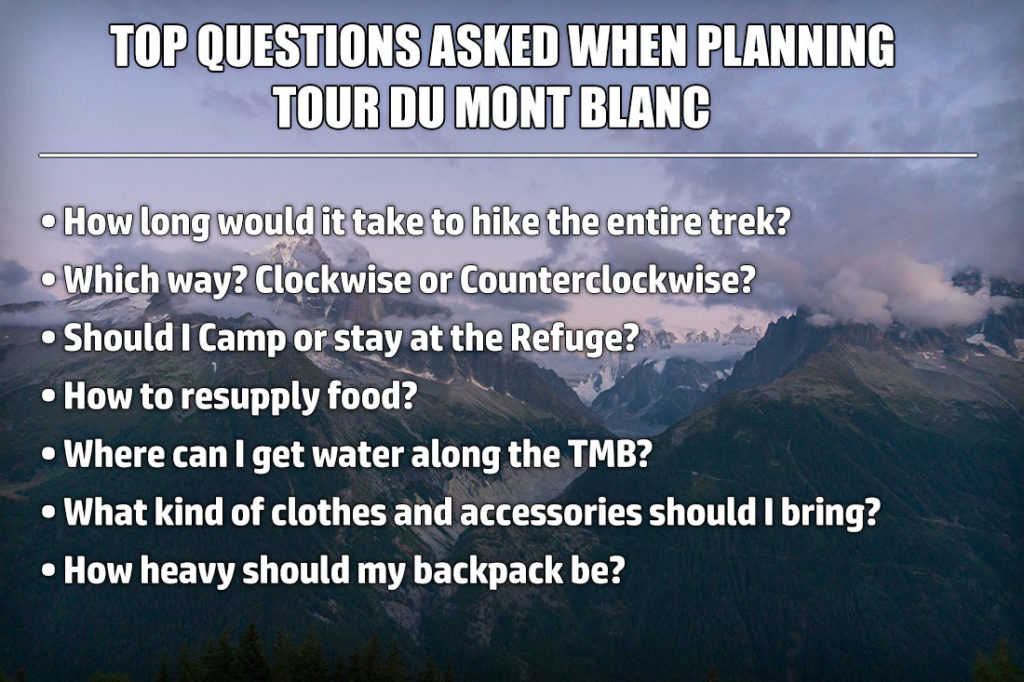 Tour du Mont Blanc is certainly an adventure of a lifetime. I believe it's very important to make sure that you get the most out of your time and experience while you're hiking this trail. That's why we wanted to make a blog where everyone would be able to find all the necessary information for their upcoming journeys.
List of Top Questions:
---
---
☑ How long would it take to hike the entire trek?
---
14 Days: Very easy and relaxed schedule. You'll have to walk everyday for approximately 12km (7.5mi). If you have time and money, you should definitely consider submerging into local culture and experience towns, villages and Refugio's, but most importantly, you will have enough time to reconnect with nature.
12 Days: I would consider this as somewhat relaxed schedule. You'll have plenty of time to put in daily mileage of 13km (8.5mi) and explore nature, towns and Refugio's without feeling rushed.
10 Days: This is a very good option if you are in good health and have previous hiking experience. You would have to hike for at-least 10 miles a day with over 1,000m (3,000ft) elevation gain.
8 Days: Ok, so this is very it gets a little crazy. 20km (13mi) a day with over 1,200m (4,000ft) elevation gain is definitely something to think about. If you are an active person in good physical health, you should be able to tackle this and I can guarantee that you'll sleep like a baby because you will be tired by end of the day
6 Days: Ok, so this is where things becoming a little unnecessary. 29km (18mi) a day with approximately 1,800m (6,000ft) of elevation gain is not easy, nor quite as enjoyable by any means. The only reason we attempted this, is because we did not plan to hike TMB at all, as we were only going to Italy to sail of the coast of Sicily. But luckily, my wife was able to get an extra vacation day, which opened up a possibility of hiking TMB in six days.
4 Days: Ok, so this is pretty hard! You must be in very good athletic condition. 40km (26mi) a day with over (8,500ft) of elevation gain is very hard. If you are attempting to do this, then you must really know what you're doing.
2 Days: I'd say you would only do this for sport or self motivation purposes, as you won't have time to get your eyes of the trail and look around and enjoy the views.
19 Hrs 01 minutes: Was the UTMB record set by France's Francois D'Haene in September of 2017. I still can't wrap my ahead around how this was possible
---
☑ Which way? Clockwise or Counterclockwise?
---
The route is pretty much established as Counter Clockwise hike. Although there are many people who do it Clockwise. I personally believe that this should depend to where your starting point is. If you're starting at Les Houches and going clockwise, you'll be faced with steep 1,500m (4900ft) ascent. This can be enough to intimidate many hikers and no one wants that to happen. For instance, we started at Courmayeur and we had over 600 meters (2100ft) uphill climb and that felt "refreshing". If we had to climb for 1,000m (3,280ft) more, it would be really hard, as it normally takes few days to get into decent hiking shape.
---
☑ Should I camp or stay at the Refuge?
---
This will largely depend on your outdoor background, how much money would you like to spend, what kind of gear you own, how much weight would you like to carry and how social of a person you are.
We chose to camp because we really enjoy camping and would like to spend as much time outdoors as possible. Our second reason was to save money. A single night at the refuge will run you on average of $60 euro per person/bunk bad. However, it would typically include dinner and breakfast, which makes it a fair deal. For additional $13-15 euro, they will pack a lunch for you.
On another hand, if you camp only, you would miss out on the greatest opportunity to meet new people. I believe it's very important, because you never know who you can run into. When Dasha and I hiked the Pacific Crest Trail, we made a lot great new friends. Some of these friends who met each other during their thru-hike actually got married. So don't miss out on great opportunities!
---
☑ What kind of clothes and accessories should I bring?
---
---
The main goal is to have as little of items as possible that are made out of high quality warm, breathable and ultra-light material. Please see below for the list of our suggested outfits that we brought for our hike at the beginning of September:
Men's Clothing:
1. Pants – KUHL Liberator Convertible Pants – Men's 34″ Inseam
2. Rain Pants – Outdoor Research Helium Rain Pants – Men's
3. Socks – Darn Tough Micro Crew Cushion Hiking Socks – Men's
4. Socks – Smartwool Expedition Trekking Socks
5. Shirt – REI Co-op Screeline Shirt – Men's
6. Shoes – La Sportiva Wildcat Trail-Running Shoes – Men's
7. Puffy – The North Face Trevail Down Hoodie – Men's
8. Base Layer – Smartwool Merino 150 Pattern Base Layer T-Shirt – Men's
9. Underwear – ExOfficio Give-N-Go Sport Mesh Boxer Briefs – Men's
10. Base Layer – Merino Midweight Base Layer Top – Men's
11. Gaiters – Dirty Girl Gaiters
12. Pillow and Dry Bag – Zpack's Pillow Dry Bag
13. Rain Jacket – The Frogg Toggs Ultra-Lite Rain Jacket
---
Gear List:
1. Sleeping Bag – EMS Mountain Light 20 Sleeping Bag, Long – we bought our sleeping bags over 6 years ago. This is a similar model, but our were 800 Fill Down and 15F rating.
2. Sleeping Bag Liner – Sea to Summit Thermolite Reactor Extreme Sleeping Bag Liner
3. Sleeping Pad – Therm-a-Rest Z Lite Sol Sleeping Pad
4. Trekking Poles – Black Diamond Alpine Ergo Cork Trekking Poles – Pair
5. Backpack – Zpack's Arc Haul Backpack
6. Tent – Zpacks Duplex Ultralight Two Person Tent ]
---
☑ How heavy should my backpack be?
---
No matter if you're doing this trek in 6 or 14 days, you have to carefully choose which items do you really need to bring with you. If you're hiking TMB from Refuge to Refuge and your base pack weight is over 10kg (22lb – not including any snacks or water) then you must be doing something wrong. If you're not used to hiking in such difficult terrain, you absolutely have to put all the time and effort into optimizing your base weight. ]
---
☑ Where can I get water along TMB?
---
You can get water at every Refugio and most of the towns. There is also plenty of natural streams located along the trail. If you are big water drinker or planning on camping, I would suggest bring a water filter such as Sawyer Squeeze. This way you'll have more flexibility and don't have rely on huts and towns or worry about going thirsty. ]
---
☑ How to resupply food?
---
If you're staying at the Refuge, you will have a hot dinner, breakfast and you can ask to pack a lunch for an extra 13-15 euro. By choosing this option, you're pretty much don't have to worry about food along the trail. There is also going to be plenty of towns, where you can check out local restaurants, cafe's, bakeries or grocery stores to stack up.
We opted for a cheaper option and had to resupply 3 times on the trail. First, we stopped by the Supermarket and picked up enough groceries for the next two days… Dasha please finish this…