Winter Guide To Hiking Mount Marcy And Camping In A Snow Cave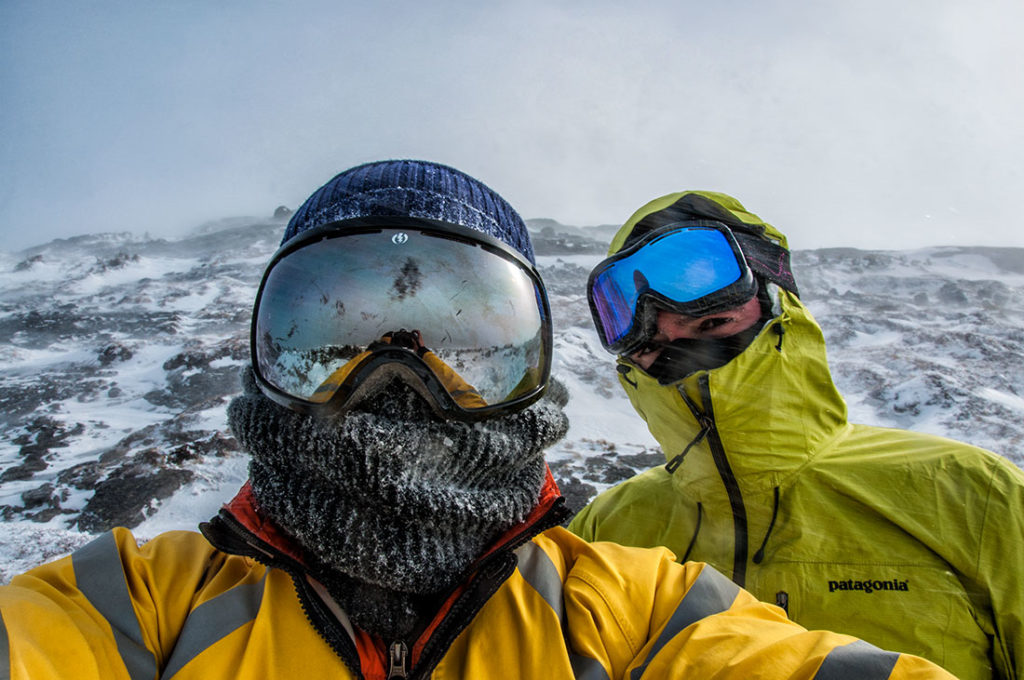 I must say that this was not an ordinary trip. Ilya and I had never camped in extreme winter conditions, nor had any previous mountaineering experience. During this trip, we've made a lot of mistakes, but most importantly, we've turned our crazy idea into a reality! After all, we live to make memories, and if we don't? Well, the life is just not as fun! 🙂
Important:
---
Cotton: Never wear cotton while hiking in winter
Water Filtration: I swear by Sawyer Squeeze as one of the best filters. But in cold winter temperatures, it could simply freeze or get clogged. SteriPEN would be the system of choice. You can also melt snow and boil water when there are no streams that are accessible.
Snowshoes: When hiking in ADK in winter, snowshoes or skis are required.
Maps & Navigation: If you're used to using your iPhone for navigating in the back-country, there is a big chance that your phone might not work in very cold temperatures. Make sure to bring paper maps with a compass, and most importantly, know how to use it!
Snow Cave: When building a snow cave, make sure that you make enough holes to ventilate it. Tight spaces like that can accumulate enough CO2 to suffocate a person. A good trick is to light up a candle. If it fades out? It means that there is not enough air circulation. Besides that, having a burning candle provides light and gives an impression of small fire.
Hike Information:
---
---
---
I remember taking a free REI class that talked about winter hiking. Alex Wildman, an experienced mountaineer who was our class instructor, showed us a photo of him walking through snow-covered Avalanche Lake. After seeing that picture, I immediately knew that I had to go there and explore this beautiful winter wonderland.
After the class, I felt overwhelmed. I knew I wanted to do it, but I didn't know where to begin. I had no gear or experience, nor knew anyone who would want to join me on a crazy trip like that. So I started researching more about clothing, navigation and different survival techniques. I was also lucky to grab Alex's e-mail and he was extremely helpful to review and suggest some of the gear that I later purchased. Around the same time I've met a friend who happened to be interested in the idea of doing a winter hike like that. The little did we know, one month later, two of us would be standing on top of Mt.Marcy, with minimal visibility and an 70Mph an hour winds would nearly blow us of our feet. The negative wind-chill temperatures were reaching -30F which could instantly freeze any exposed skin on our faces…
---
❖ DAY 1: Hike From ADK Loj To Lake Colden & Building A Snow Cave | 6mi (10km)
---
Because we were driving from two different locations and had to share some of the gear, it took us some time to repack our bags when we arrived. When you're doing it outside in -10F temperatures? You will wish that you did that prior to your departure 🙂
The trail starts at the parking lot, right by the Rangers Station. When you step on trail and walk into the forest, on your right side you'll notice a small booth that will have a trail register. Make sure you sign-in, so that if something happens to you, rescuers would know where to look for you. There was no recent snowfall in the past couple of days, so the trail was well visible. You must follow the signs to Marcy Dam.
---
When you reach Marcy Dam, you have to cross to the other side. Make a left and hike north until you come to a swinging bridge where you can cross the stream. It has been extremely cold for quiet some time and the lake before the dam completely frozen over. We were able to cross it on foot without no problems. Once on the other side, stay to the right and follow Avalanche Pass Trail. You will pass Avalanche Lake, eventually reaching Lake Colden. TIP: in case of emergency, there is a ranger on duty all year round on the Western Side of this lake.
Once we reached the end side of the Lake, we started scouting the location where to build a snow cave. Lucky for us, we found a half collapsed snow cave that we were able to dug out and restore. The reason we decided to build a snow cave is because we we didn't have a 4 season tent nor a very warm sleeping bags. It takes time to accumulate all the necessary equipment. Good gear cost a lot of money. Plus when the hell else in your life you would get to spend a night in a totally awesome snow cave! 🙂
---
By the time we finished setting up our night shelter, we had about an hour of day light left. We decided to go for a short hike to the Flowed Lands Lake, which was completely frozen over. When we returned to our camp, the temperature started to drop very quickly and we rushed to make dinner before sliding into our retreat. I believe we spent about 20 minutes melting snow and boiling water. It got so cold so quick, that we literally had to take turns running around the camp every five minutes while cooking food. Our legs and our hands were simply freezing if you stood still for more then 4-5 minutes. Once we were done, we got inside our snowy house (where it was so much warmer) and enjoyed our dinner.
---
❖ DAY 2: Hiking to Mt.Marcy And Returning Back to ADK Loj | 10.5mi (17km)
---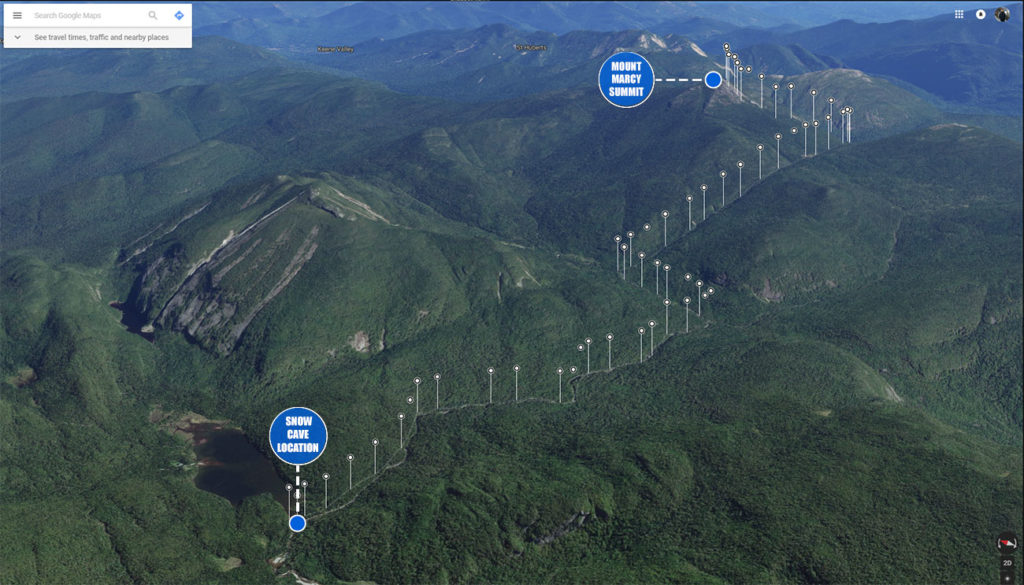 We were well aware of the storm system moving in around noon. So the next morning we woke up at 4:00AM, ate breakfast and headed South West on Mount Marcy Trail. It's about 4.5mi (7km) from snow cave to the summit. First half of the hike is gradual ascend which gets steeper and will stay this way pretty much until you reach the summit. Make sure to bring enough water, as there is a chance that most of the stream would be frozen and inaccessible.
---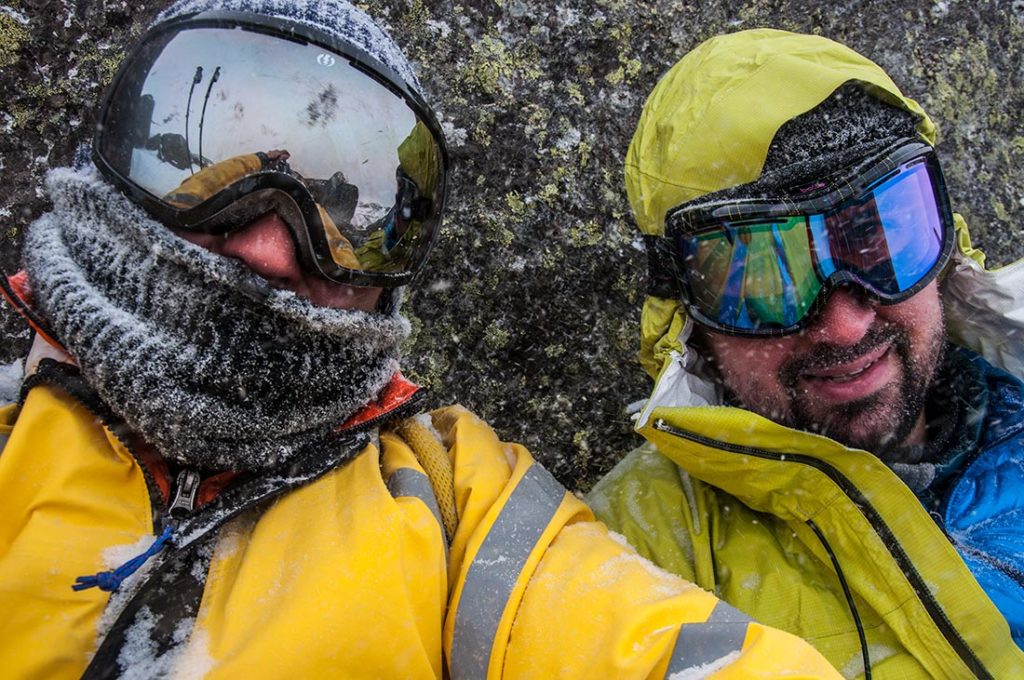 Once above the tree line, we noticed a storm system arriving few hours earlier then predicted. We couldn't waste no time and rushed toward the summit. About 700ft away from summit, we were met with an instant, powerful force of wind that nearly knocked us of our feet. Feeling a little disoriented, we hid behind a rock to catch our breath. We knew that at this point the weather will get worse and the visibility will become minimal. So we rushed toward the summit. Once at the top, it was so windy and cold that all of our cameras stopped functioning and we were only able to snap two shots.
---
Not wasting any time, we started our descend back down into the valley. Once back at our camp, we packed up our packs and started heading back to our car. Before hiking out from the forest onto the Lake Colden, out of the sudden, we heard a helicopter land on the other side of the lake near ranger's cabin. 30 seconds later, it went airborne again and disappeared into the clouds. Later we would find out out that that there was a climber who fell down and broke his ribs. He was in critical condition and needs an airlift asap.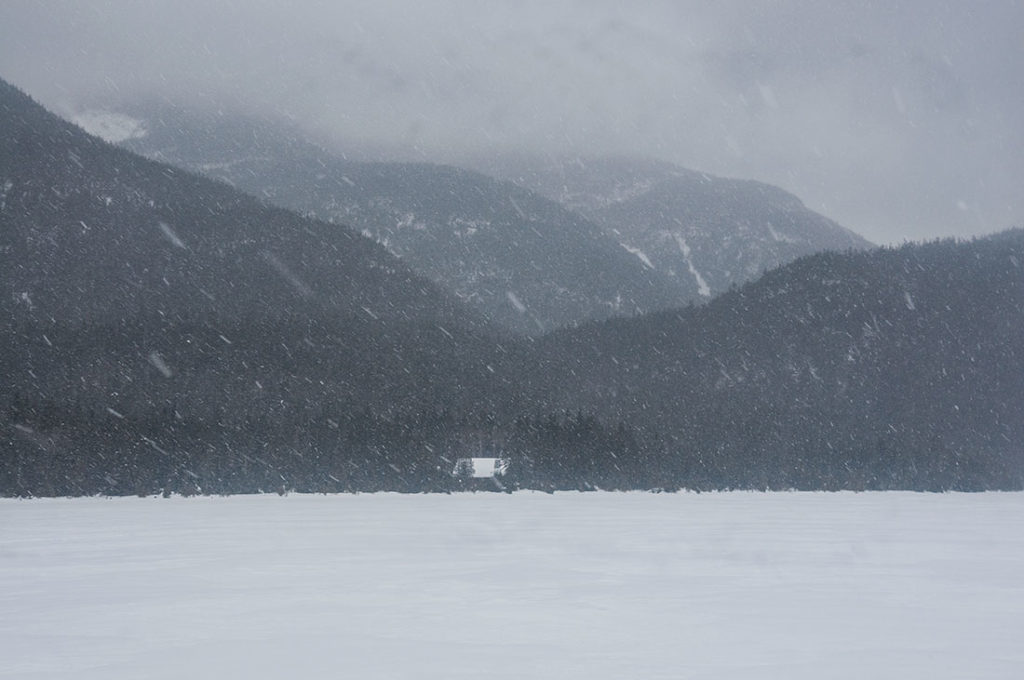 About 30 minutes later as we were passing through an Avalanche Pass, we saw a park ranger stuck in the snow in his snowmobile. After giving him a hand and pulling his snowmobile out of the ditch, he thanked us and continued down the trail. After about another 45 minutes, we caught up to the same ranger, but we could not see his snowmobile. Basically he had to jump off as he lost control of the machine that flew down the side of the trail. We offered our help to try to get it back up, but he told us that he already radioed for help and that they are bringing the right equipment to try to pull it out.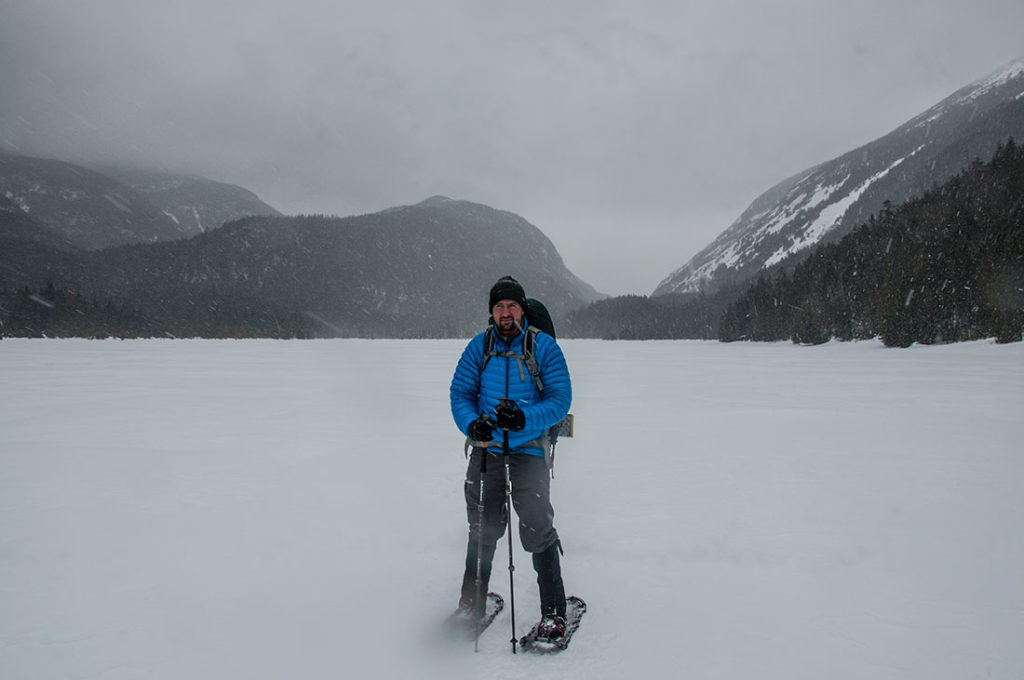 By the time we reached Marcy Dam, the snow has greatly intensified and visibility started to decrease. Luckily, there were luminescent trail markers on trees and you could still see the trail, which made navigating through the woods much easier and we felt very comfortable finding our way back to the car.
---