Hiking West Rim Trail in Zion National Park
Our plan was to hitchhike from South Entrance Ranger Station to West Rim Trailhead (near Lava Point Overlook) and hike to our reserved camping site (8) along West Rim Trail. (plan ahead to reserve your campground, there are limited number of sites and they typically fill up months in advance. We were extremely fortunate to pickup someones cancelled online reservation two days prior to our arrival)
You can also try to chart a shuttle to drop you off at the north end of the trail. It's departs Springdale around 6:15AM and costs about 40$ per person.
Trip Information:
---
---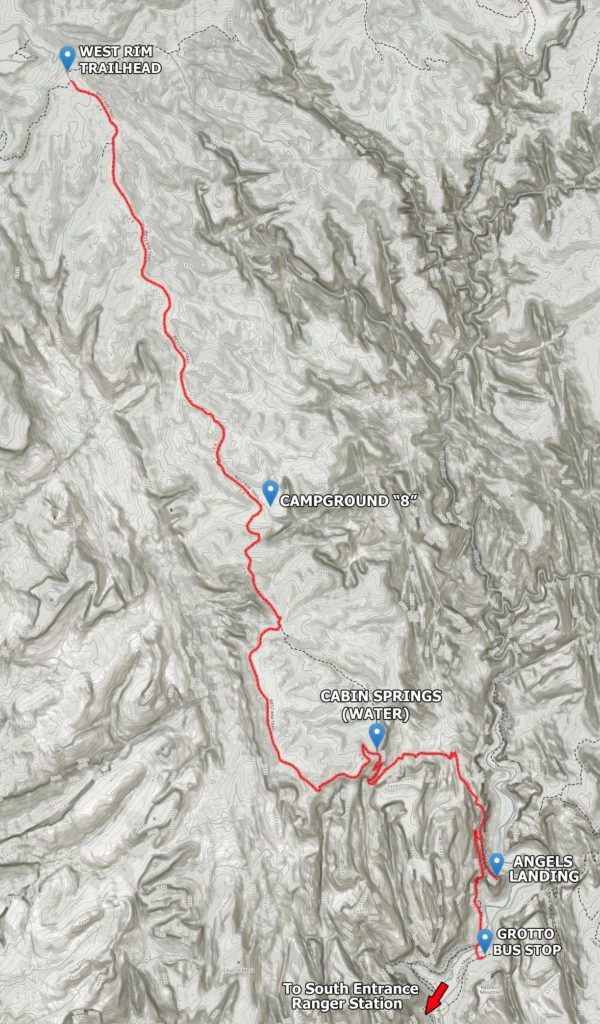 ---
We left our car along the road before South Entrance Ranger Station and walked over to Zion's Canyon Village Shuttle Stop. It's a free shuttle that takes you down to Majestic View Lodge (Click here for Shuttle Map). From there, we stuck our thumbs out hitched a ride. One of the locals picked us up and drove us for 10 miles to RT9 & Kolob Terrace Rd intersection.
At the intersection, we had no luck hitching another ride, so we decided to walk along the Kolob Terrace Road for almost an hour, until a passing by ranger kindly offered us a ride for the next 18 miles. We got off near Lava Point, which is less then a mile away from the West Rim trailhead. Soon after, we started our hike! ]
After about two hours of hiking on a well maintained trail, we've reached our reserved campsite #8. There is a seasonal creek nearby, but it was dry. Make sure to bring extra water as there are only a few water sources along the trail (check for water status with permit office at the Visitor's Center before heading out). The first water source that was available for us was near campsite #1. (Refer to Map)
It got pretty chilly in the evening, so bring some extra layers if your sleeping is not warm enough. It was a beautiful night, full of wild animal and alien encounters, who were skeptically wondering around us all night…
We woke up an hour before sunrise, packed up our stuff and continued on the trail. Our plan was to get to the top of the ridge to capture the morning's first sunlight. Soon enough, we found a perfect spot to take some photos and eat our breakfast. The air was full of morning mist, and the sun filled the valley with magic colors.
Once you pass Cabin Springs Water Source (Map), the trail takes a sharp turn into a downhill canyon, with lots of switchbacks on a side of stone wall down to the bottom of a narrow canyon. After moderate 30-45 minutes incline, we've reached the beginning of a very popular hike "Angels Landing".
---
You have a choice to skip Angels Landing short hike, but I highly recommend doing it. It should take no more then an hour. It will be great test for anyone who has a fear of heights. The only downside of this hike, is that it gets extremely overcrowded.
---
---
After returning from Angel's Landing, we continued on our hike down to the bottom of the canyon up until the Grotto Shuttle Bus stop. Ten minutes later, the bus arrived and drove us back to the park entrance, where we previously left our car parked along the road.
Southwest Adventure – a detailed video from our trip to Utah and Arizona by Serge Pikhotskiy on Vimeo.